The Peak - Edition #5, October 2023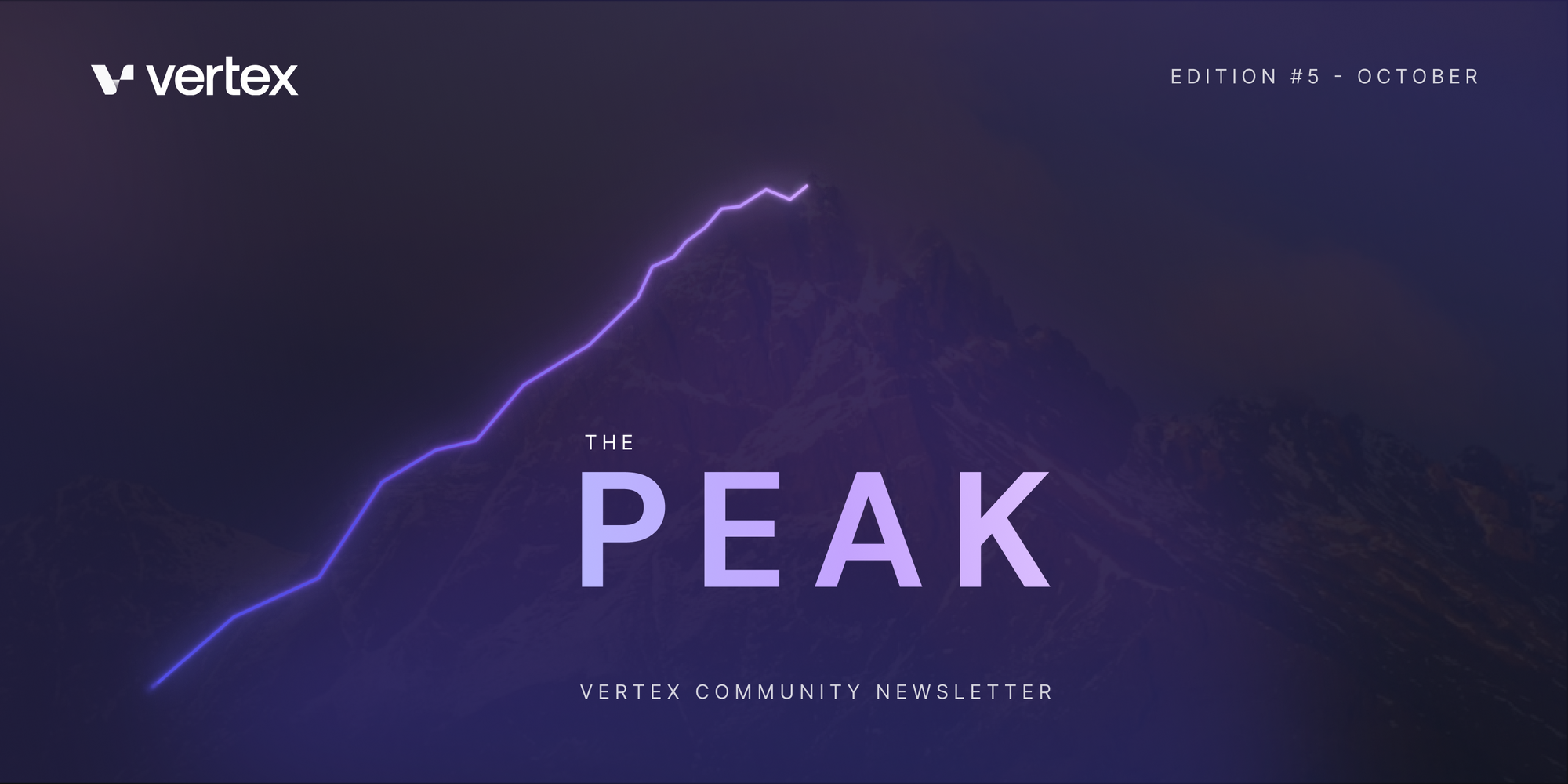 The Peak is a monthly newsletter for the Vertex community. Join us as we unpack the past month's highlights for the community including trading stats, new features, and markets.
What comes after October?
#Vertember.
It's just like any other November but this time it's one of the biggest months for Vertex, packed with exciting events and releases.
Are you ready?
---
In this edition of The Peak, we will take a slightly different approach. We'll cover the upcoming VRTX token launch, the 3M ARB incentives grant from the Arbitrum DAO, and what it means for you as a Vertex trader. Then we'll get into the usual programming of recapping some releases, market stats, and other fun stuff.
In this edition:
VRTX token launch & what you need to know.
ARB Incentives:Earn more while trading.
Releases - Elixir, help page, trade notifications settings & new slider.
Markets: $10b and climbing
Partners: Selini & coingecko
Community Content
VRTX Token Launch – Are You Ready?
The VRTX token launch is quickly approaching. Below is a summary of what you need to know.
Please click on the hyperlinks to learn more!
There will be a liquidity bootstrapping auction (LBA) between November 13th → 20th, 2023.
The LBA is designed to build a base of liquidity and set a fair launch price for the VRTX token.
You can participate in the LBA by supplying pre-claimed VRTX rewards and/or USDC.e.
LBA participants will receive an LBA position(e.g., LP) that earns pool APR + VRTX rewards.
The supplied VRTX and USDC.e will create the VRTX-USDC.e pool.
The VRTX token will subsequently launch on November 20th.
Users can claim any remaining VRTX rewards from Trade & Earn Epochs 1 → 7 to their wallet.
You will be able to trade, pool, and stake the VRTX tokens.
How can you prepare for the LBA?
→ Mark your calendars for Nov 13 (start of the auction).
→ Review the LBA tutorial guide.
→ Make sure you have USDC.e on Arbitrum if you wish to supply it.
→ Ask questions in Discord.
---
ARB Incentives Incoming!
We're thrilled to share that Vertex's STIP proposal to the Arbitrum DAO passed!
The results:
What does this mean Vertex Traders?
The Vertex proposal to the STIP requested a portion of the 50M total $ARB incentives available in the inaugural program. Specifically, Vertex requested:
Fusion Pools: Powered by Elixir Protocol ("Elixir") Liquidity Incentives = Up to 450K ARB total (150K ARB per 28-day epoch).
Trading Rewards: 1.35M – 2.55M ARB total (450K – 850K ARB per 28-day epoch).
Total: 1.8M – 3M ARB (600K – 1M ARB per epoch).
As a result, once the $ARB incentives are distributed to teams that passed the STIP voting round, up to 3 million $ARB tokens will be allocated as trading incentives on Vertex.
For a full breakdown of the Vertex Proposal, you can check it out here.
The ARB incentives program is slated to start during Epoch 8.
Stay tuned for an announcement across socials for further details on how to view and claim your ARB incentives.
---
Feature Releases
October might not have had the most releases for the Vertex product, but this was mostly due to the scope of developments slated for November. That being said, here's some of what we released over the past month:
Vertex Fusion Pools - Powered by Elixir Protocol
The Fusion Pool launch, in collaboration with Elixir, went live on November 1st!
Fusion Pools allow users to supply USDC to the maker side of Vertex orderbook pairs (e.g., spot and perps) as an LP contributing to a larger pool that effectively functions as another market maker. LPs earn a portion of maker rewards and yield in the process.
You can find more details about the Elixir and Vertex integration here.
➡️ Since launching, the Elixir pools have reached their initial cap of 3M! The pool's capacity might be increasing in the coming days, stay tuned.
Help Page
The recent release of the Vertex FAQ/Help page means you no longer need to leave the app to discover answers to your questions in the Vertex docs. You can simply and quickly access the relevant information in the search bar.
To access the Help page, simply:
→ Go to the Portfolio page
→ Click on the FAQ/Help in the side nav bar.
OR
→ Click on "Help" at the bottom of the desktop app/mobile nav bar.
→ Click on FAQ/Help page.
Hide Trade Notifications
Do you trade via Vertex's lightning-fast API? Or perhaps you just dislike notifications?
Well, now you can hide the trade notifications, including:
Order Placed
Filled
Canceled
All you have to do is click on the settings in the trade order form.
New Slider
You might not have noticed, but the slider and pop-ups on the Vertex trading page were recently updated. What do you think?

Markets
Vertex's aggregate trading volume recently surpassed the $10B milestone on October 28th.
Vertex also recorded its highest 24-hour trading volume on October 2nd – totaling $216.53M.
That 24-hour record was subsequently broken on November 1st!
At the time of writing, the aggregate trading volume on Vertex is around $10.8B.
Vertex's trading volumes continue their steady trajectory upwards.
Vertex's cumulative users fell just shy of 11K in October. As displayed in the chart below, the daily user activity is picking up substantially.
There was one thing missing in October – new markets. No new perpetual or spot markets were listed in October and there are currently no plans to list new markets before the LBA and VRTX token launch.
After the VRTX launch, more markets are slated to be added.
---
Partners & Content
Elixir
As alluded to earlier, Elixir's Fusion Pools are now live!
Selini Capital
We're pleased to welcome Selini to the Vertex Partner Network.
Coingecko
Vertex was added to Coingecko's Spot and Derivatives categories for DEXs.
Community Content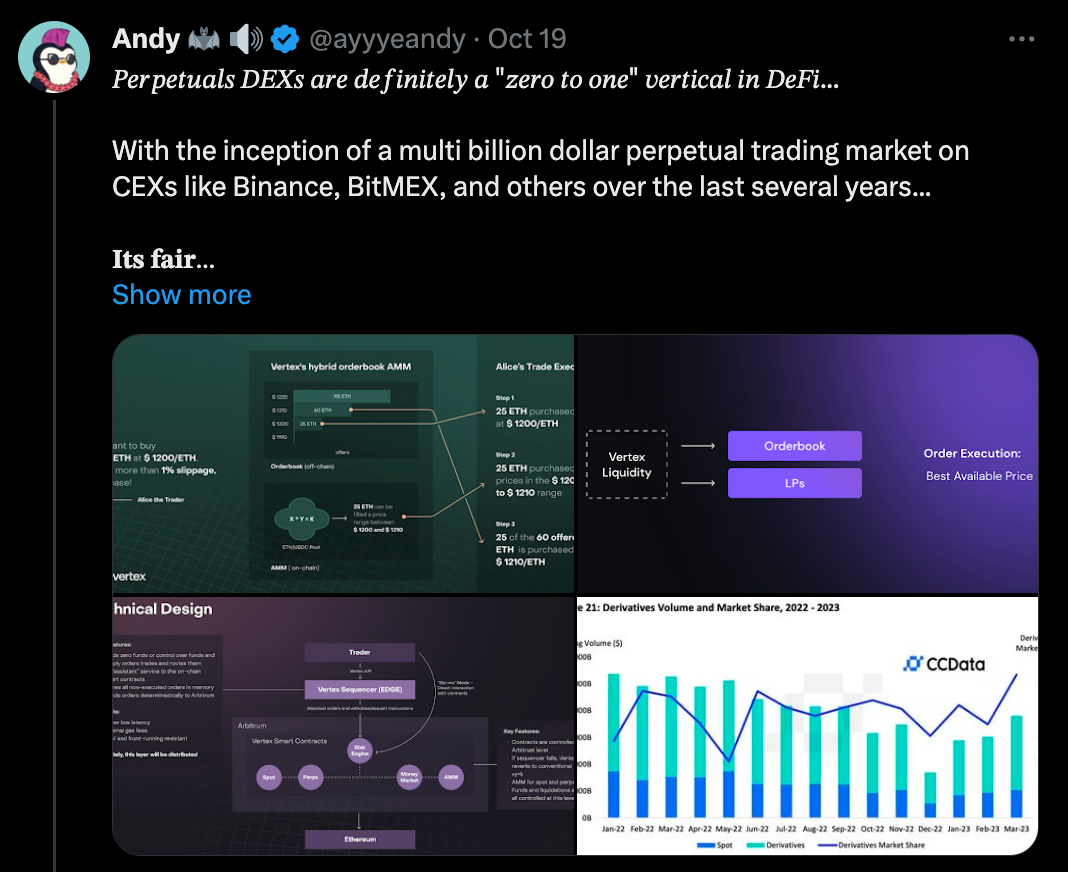 A comprehensive tweet on the potential of Vertex and how it can capture CEX market share.
We suggest you give it a read!
---
If you have any questions about what was shared today, Vertex in general, or want to get more involved in our journey, then we invite you to:
That's all for now. Time to get back to building.
~ Vertex Team