Vertex partners with Selini to provide enhanced market liquidity.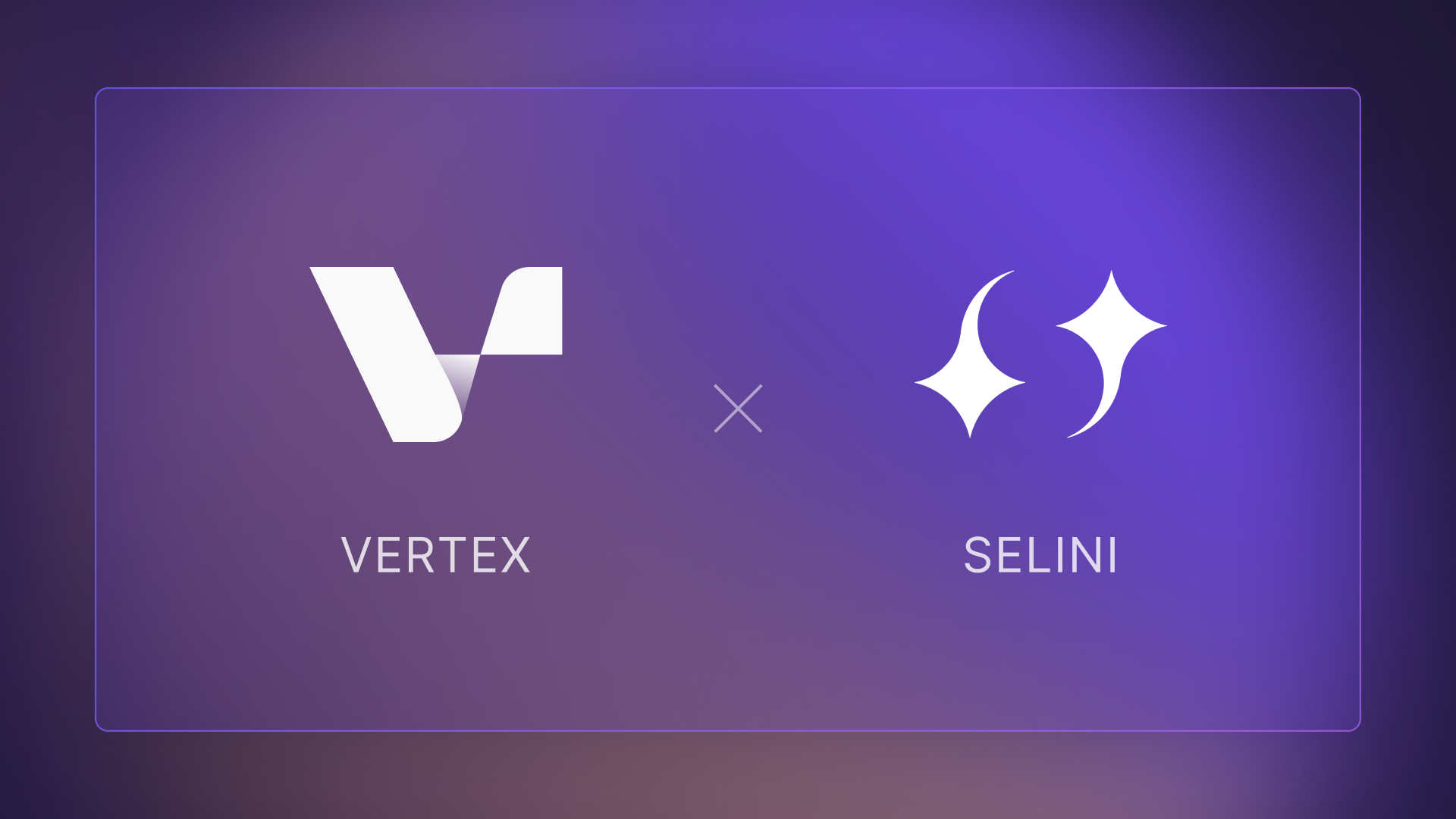 Vertex Protocol is thrilled to announce a strategic partnership with Selini Capital, a renowned quantitative trading firm and liquidity provider specializing in digital assets. This collaboration significantly benefits Vertex Protocol, a decentralized exchange committed to delivering a top-tier trading experience.
Selini brings a wealth of expertise with its extensive experience, strong foundation in quantitative trading, and enthusiasm for cutting-edge technology. Their team comprises seasoned researchers, traders, and engineers, many of whom hail from highly successful financial and technical institutions. With decades of combined experience, they have set their sights on maximizing opportunities within the digital asset space.
"Since our launch Selini have been excellent and consistent partners." Said Darius, Co-founder at Vertex. "Their team is actively ready with feedback at various junctures."
Selini's unique approach blends expertise and innovation, allowing them to consistently excel in the rapidly evolving market, both on and off-chain. They specialize in fully automated systematic trading strategies and have invested significantly in building agile, high-performance infrastructure.
"Our strategic decision to collaborate with Vertex was driven by their unparalleled cutting-edge technology and industry-leading portfolio margining capabilities." Said Jordi Alexander, CIO at Selini. "We are thrilled to join forces and together, enhance market liquidity for DeFi participants."
Importantly, Selini doesn't just provide funding; they actively contribute ongoing value to the projects they support. For Vertex Protocol, this partnership means:
Enhanced Liquidity: Selini's involvement as a market maker will boost on-exchange liquidity on Vertex Protocol, leading to tighter spreads and improved trading conditions for users.
Industry Expertise: Drawing from their quantitative finance background and technological prowess.
The partnership between Vertex Protocol and Selini Capital marks a pivotal moment in the evolution of decentralized finance (DeFi), where two industry leaders join forces to elevate the trading experience and expand opportunities for crypto enthusiasts. It's a testament to Vertex Protocol's commitment to excellence and innovation in the world of digital asset trading.
About Vertex
Vertex Protocol was established by a team of traders and engineers with a track record of business building in both TradFi and DeFi markets. They saw the latent market need for users to interact with DeFi in a more flexible way and decided to leverage the growing ecosystem on the Arbirtrum blockchain to bring a trading protocol to market. Today, they are excited to be at the forefront of smart contract and market innovation for Arbitrum and to help partner with some of the most exciting names in crypto to build a DeFi protocol that works for all users.
To learn more about Vertex Protocol, please visit www.vertexprotocol.com and/or go to the following:
Discord community: https://discord.gg/xRdut3NyG3
Twitter: https://twitter.com/vertex_protocol
Public docs: https://vertex-protocol.gitbook.io/vertex-protocol/getting-started/vertex-overview
About Selini
Selini, is a leader in the digital asset markets, specializing in high-frequency market making. The team comprises experts from prestigious tech and finance firms, uniting expertise and creativity to thrive in the constantly evolving crypto landscape. The company's core competency lies in algorithmic liquidity provisioning, and they invest substantially in agile, high-performance infrastructure, ensuring they stay ahead in innovation within the digital asset space.
Twitter: https://twitter.com/SeliniCapital
Website: https://www.selinicapital.com/
---
Vertex provides a decentralized protocol for trading spot digital currencies and perpetual contracts. Vertex is not authorised or regulated by the Financial Conduct Authority (FCA) or any other regulator. Since cryptocurrency markets are decentralised and non-regulated, our cryptocurrencies trading services are unregulated services which are not governed by any specific UK, European or other regulatory framework (including MIFID or MiCA). Therefore, when Vertex customers use our cryptocurrencies trading service, they will not benefit from the protections available to clients receiving regulated investment services. Vertex customers using the cryptocurrencies trading service will not benefit from the protections available to clients receiving regulated investment services such as access to the Financial Services Compensation Scheme (FSCS) and the Financial Ombudsman Service for dispute resolution. All of our products carry a high degree of risk and are not suitable for many investors. It is important that you fully understand the risks involved before deciding to trade with Vertex, that you have adequate financial resources to bear such risks and that you monitor your positions carefully. Trading involves risk to your capital. You should not invest money that you cannot afford to lose. You should seek professional advice if you do not fully understand and accept the risks of investing in the products offered by Vertex. You should review our Statement of Risk before investing.