The Peak - Edition #1, June 2023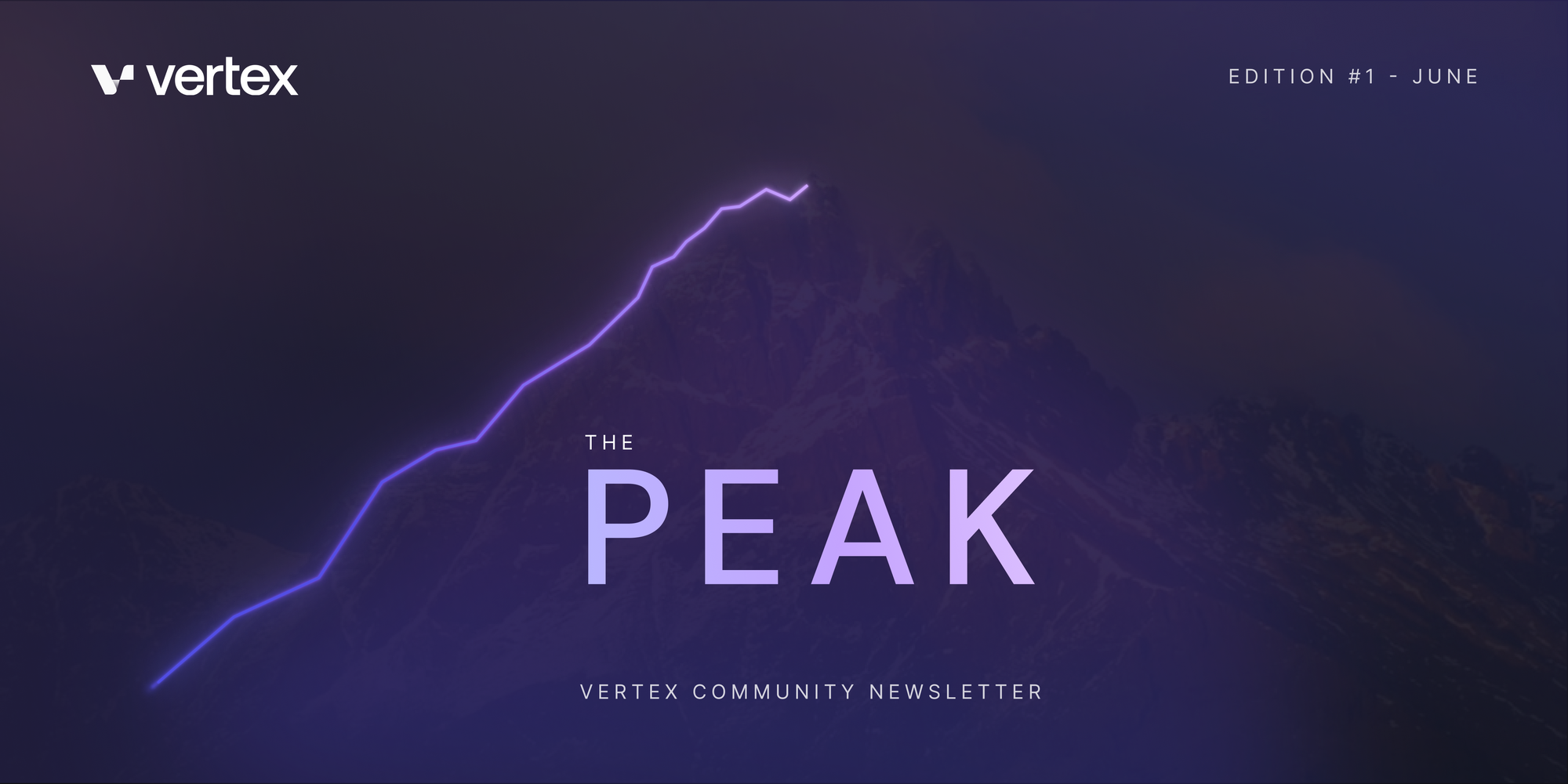 The Peak is a monthly newsletter for the Vertex community. Join us as we unpack the past month's highlights for the community; trading stats; and new features and markets.
June 2023
June - what a month that was. As the saying goes - Rome wasn't built in a day. According to historians, it took 1,229 years to build Rome. However, if the Romans shipped as fast as our team, we're positive that timeline would be… a few years
What we'll cover in June's issue (TLDR);
Big releases: One-Click Trading and Spot Pools
New markets: 5 new perp markets and our first new collateral + spot market, $ARB
Market stats: volumes keep growing
New features: Position Sharing and Improved trading UI/UX
An in-depth comparison: Vertex vs. Competition
Refresher on the Trade & Earn Programme
Investment: Wintermute joins the team
Community Spotlight: some of our favorite tweets & threads
What's coming up - Stop orders, new portfolio pages and charts, referrals & more
Let's get into it!
Major New Releases
One-Click Trading: On June 12th, we introduced a feature that would change your Vertex trading experience forever. By enabling One-Click Trading mode, you only need to sign one signature at the start of your trading session without needing to sign for any other actions during that session. Extremely fast, utterly seamless. You can thank us later. To learn more, check out this thread or our blog post.
Spot Pools: what's better than earning yield on lazy capital? We'll tell ya - using that yield-bearing LP position as margin to trade perps or leverage-up you LP. The hot summer months of June brought pools to Vertex. Put those swimmers on anon, we're diving in.
New Markets
June was the start of the Vertex Markets wave, which will continue allllll summer long. We saw 5 new perp markets and 1 new collateral/spot market. Each market is eligible for $VRTX token emissions. To learn more about each market, please refer to the margin requirements and token emissions docs.
Perp Markets
ARB-PERP
BNB-PERP
SOL-PERP
MATIC-PERP
XRP-PERP
Spot Markets + Collateral
Thanks to the design of Vertex, Vertex is one of the only DEXs (and venues in general) that you can deposit your favourite tokens and use them as collateral. You can then trade perps, set up delta-neutral strategies, or even leverage up by buying more spot. The opportunities on Vertex are… Endless.
Market Stats
Some juicy stats since the launch of the Vertex app on the 26th of April: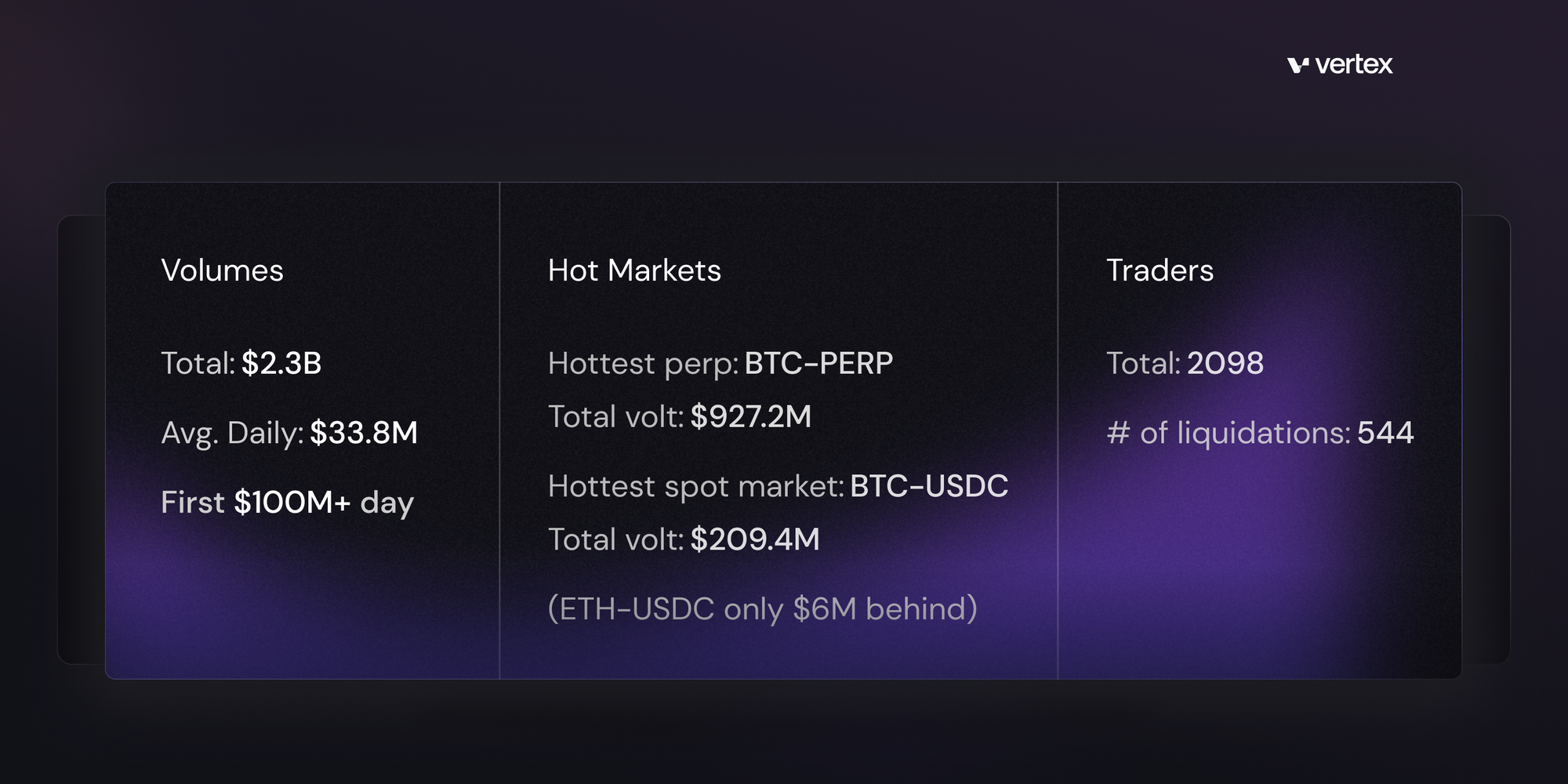 What these numbers don't capture is the growth.The last 2 weeks have been the best for daily and weekly volume, averaging close to $50M per day. They have also been the best in regards to user growth, with over 200 unique accounts trading on Vertex daily and over 600 per week on average.
We will soon launch a Community Dashboards page which will display all of this information and more, such as historical open interest, funding rates, and TVL arranged by market.
New Features
Here is a summary of new features released over the last month.
Position Sharing
You can now share how UP or DOWN bad you are on an open position. Click on the arrow beside an open perp position's PnL and a pop-up will appear. You can click on Twitter which will open Twitter for you and all you need to do is press paste and voila a pic of your PnL will appear. We have something really exciting coming up for this though… Just wait.
Improved Trading UI/UX
Trade summaries - see estimated totals, fee and slippage tolerance before placing orders
Split the orderbook and market history so you can view both at once or use the up/down toggles to view one or the other
Larger chart size and wider tables
Page scrolling instead of just table scrolling
Est. Liq Price
We added an Estimated Liquidation Price (Est. Liq. Price) in the Perp Positions tables so you can manage risk. Please note however that since Vertex is cross-margin, Est. Liq Price considers all of your positions at once. The tool is best used/most accurate if you only have one perp open.
New Blog: A Comparison of Vertex Competitors
In our most recent blog post, we put Vertex up against some friendly competitors to uncover what makes Vertex the ultimate trading venue.
This one is DEFINITELY worth the read. That said, If you're not in the reading mood, or just accustomed to reading 280 characters or less, let us summarize it for you:
Lowest fees
On par with CEXs for speed, faster than DEXs
Cross margin for capital efficiency and flexibility
Self-custodial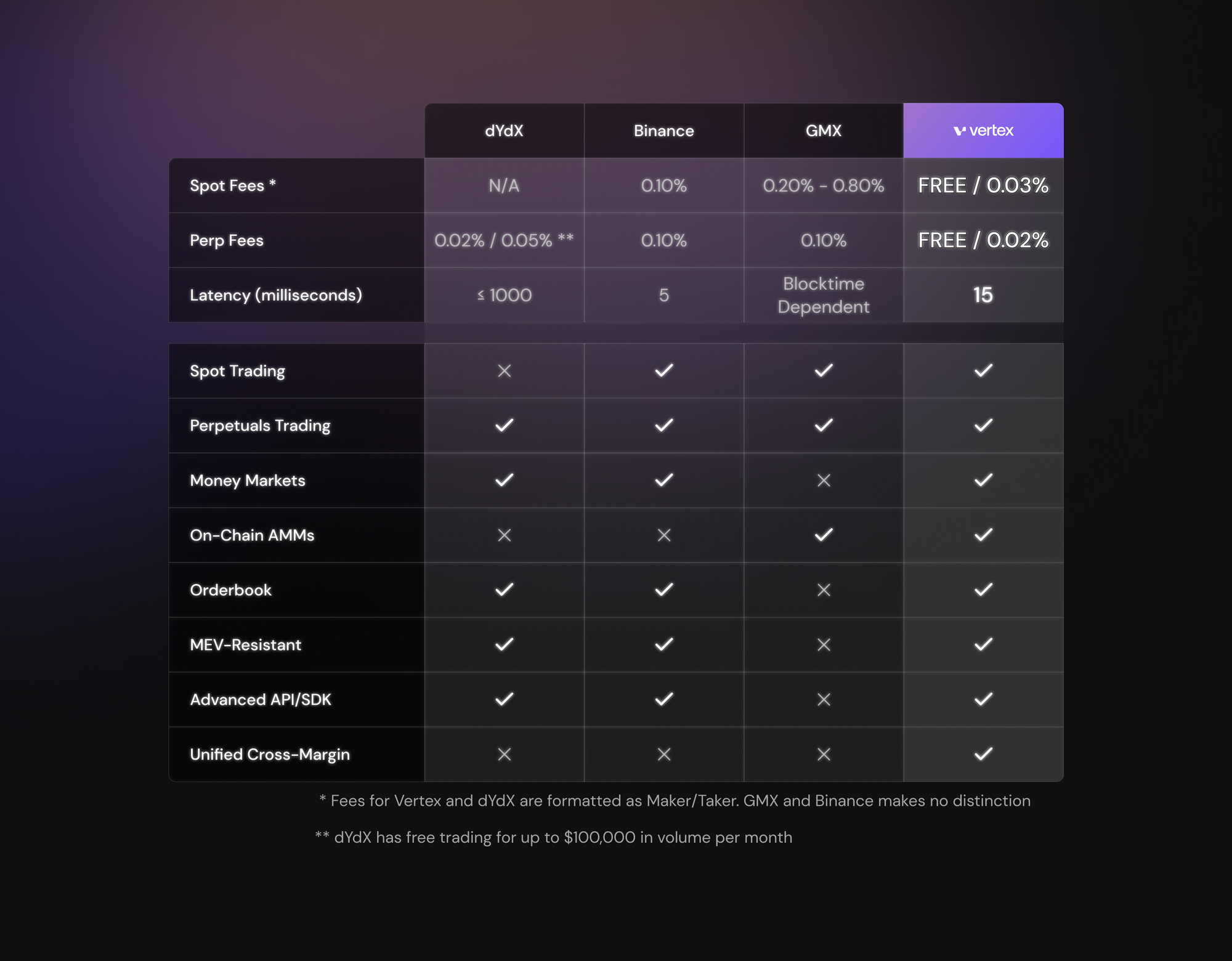 Ongoing incentives
Trade & Earn $VRTX
As part of our Initial Token (airdrop) Phase, trading rewards started getting tracked shortly after mainnet back in April. Recently, our intern wrote a good thread summarizing the details of the programme and how to best take advantage of it.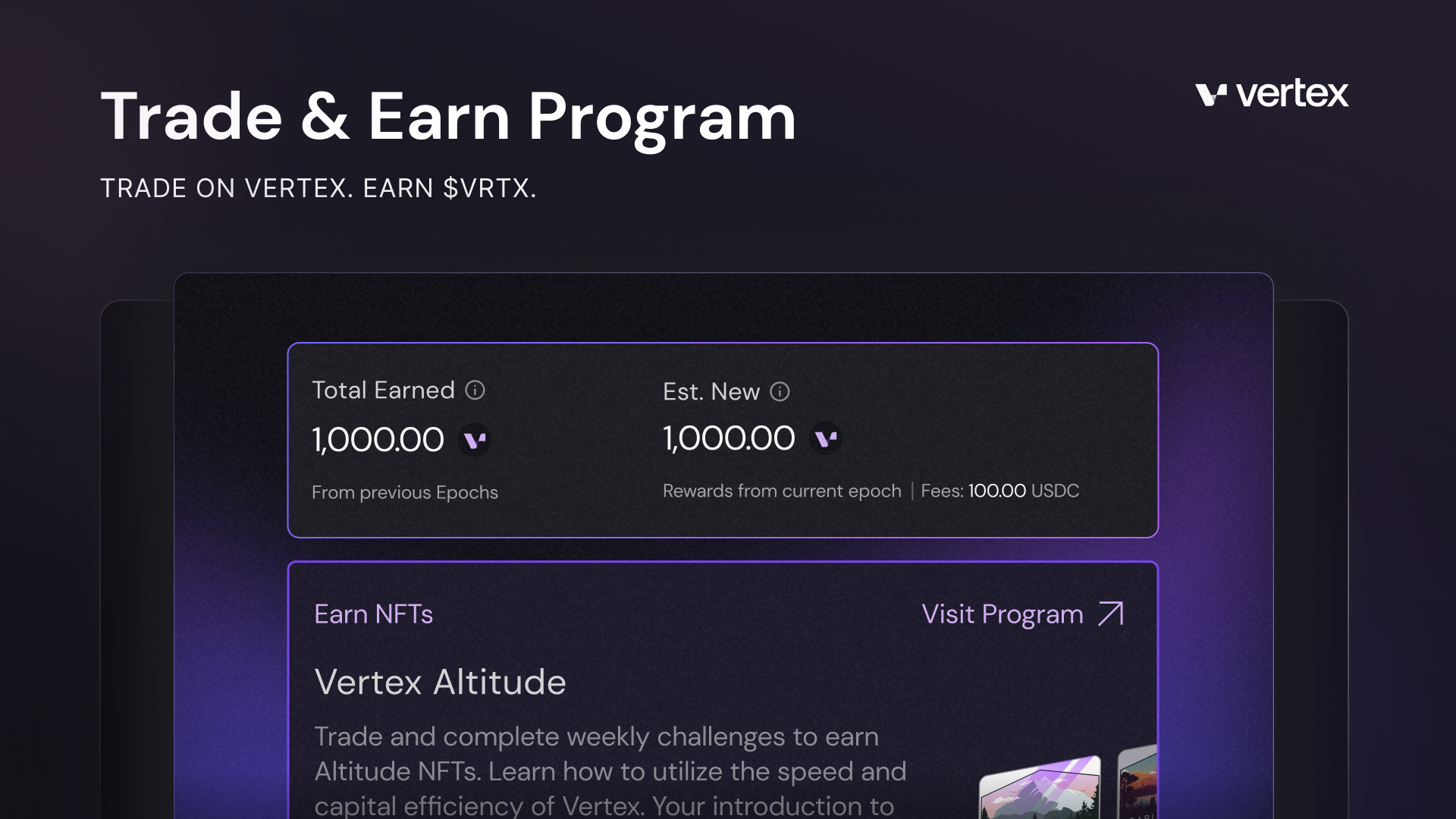 The Vertex token reward programme (there are two phases) is designed to align long-term users with the growth of the protocol via our tokenomics. We're not going to go in-depth here, because you can easily click the link & read docs. But just know that the word is out and the race for the initial $VRTX airdrop is heating up. We'll leave you with a quote once overheard at your local degen house party:
"If you haven't heard/seen the VRTX initial token phase, then you probably live under a rock.
Vertex Altitude
Do you like climbing mountains? To be honest, we'd rather sit at home and trade. Well, what if you can do both? Yuh, that's right, welcome to Vertex Altitude. Each week we launch a new series of activities that, if completed, you'll earn a Vertex Altitude NFT. Besides being awesome jpegs to go along with your digital rocks and toads, there might be something in store for these badges of honour.
Learn more about Altitude on Galxe
Wintermute Strategic Investment
We are thrilled to welcome Wintermute to the Vertex fam. Their recent strategic investment put them along a first-class set of Liquidity Providers making vertex's books as deep as the Mariana trench. But in all seriousness, we're really excited to work alongside the Wintermute team and continue to develop the best trading venue for institutional patterns and everyday traders alike.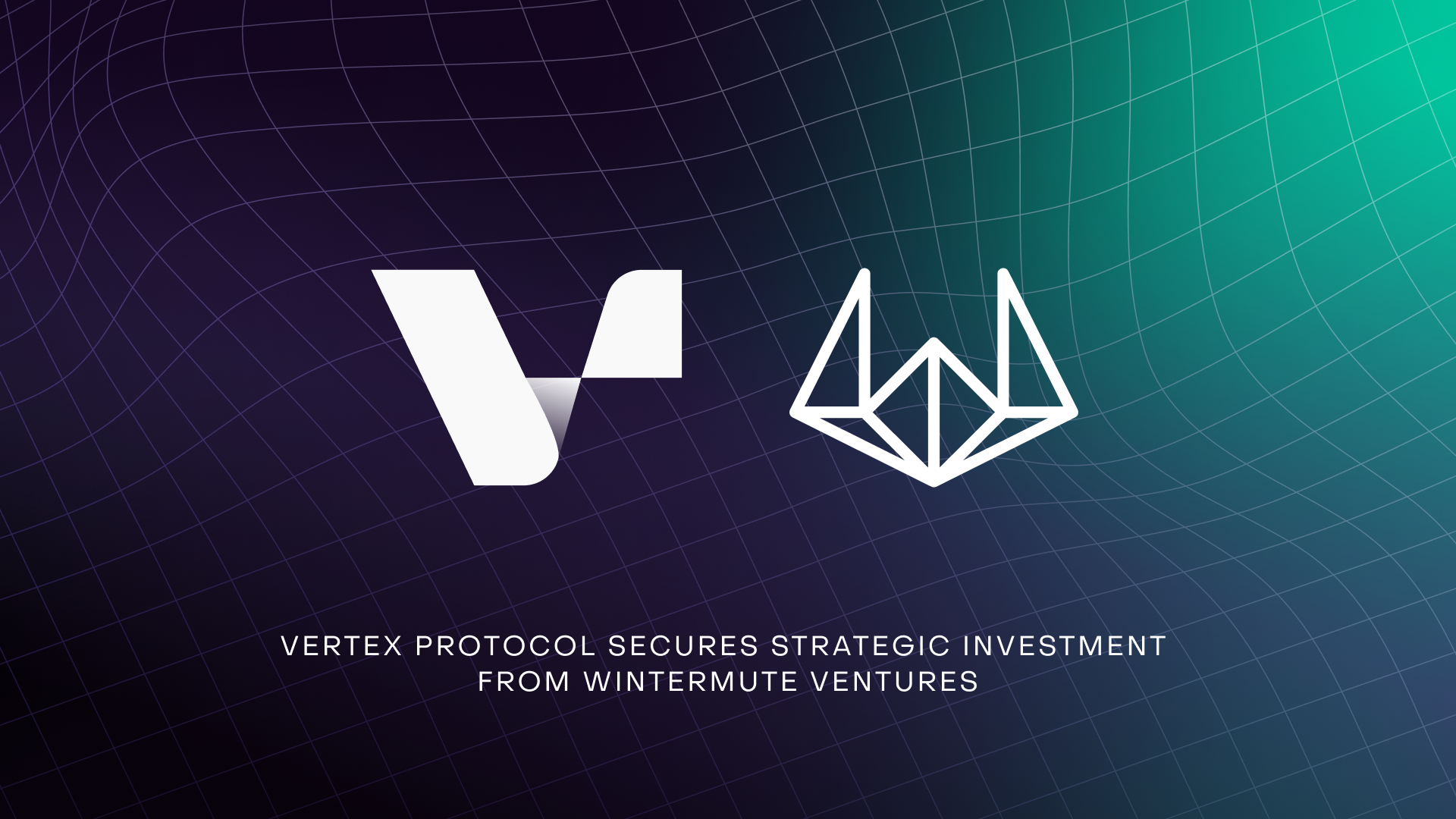 Looking Ahead
At Vertex, we don't have a public roadmap collecting dust somewhere. Why you might be asking? Because crypto moves too fast, and so do our engineers. We like to be flexible, prioritizing products and features as our community requests them. (We also like to surprise you) That said, here is a glimpse of what we're planning to focus on during the month of July:
Trigger orders
A new portfolio section with charts
A referral programme (for everyone!)
Push notifications
Additionally, we will start preparing for isolated margin trading. Well we believe that Vertex's cross-margin design provides traders with the efficiency and flexibility that can't be found elsewhere, we have heard your requests. We want to make sure that deciding between cross and isolated trading is as frictionless as possible. So over the coming weeks, we will be refining our plans with input from users to build the best experience for YOU.
On that note, if you have any ideas or requests please submit them here: https://forms.gle/ASJnNXxC5PoHPZbm7
That's it for this month's newsletter.
As always, our team is here for you. Please don't hesitate to reach out via Discord or Twitter.