The Peak - Edition #3, August 2023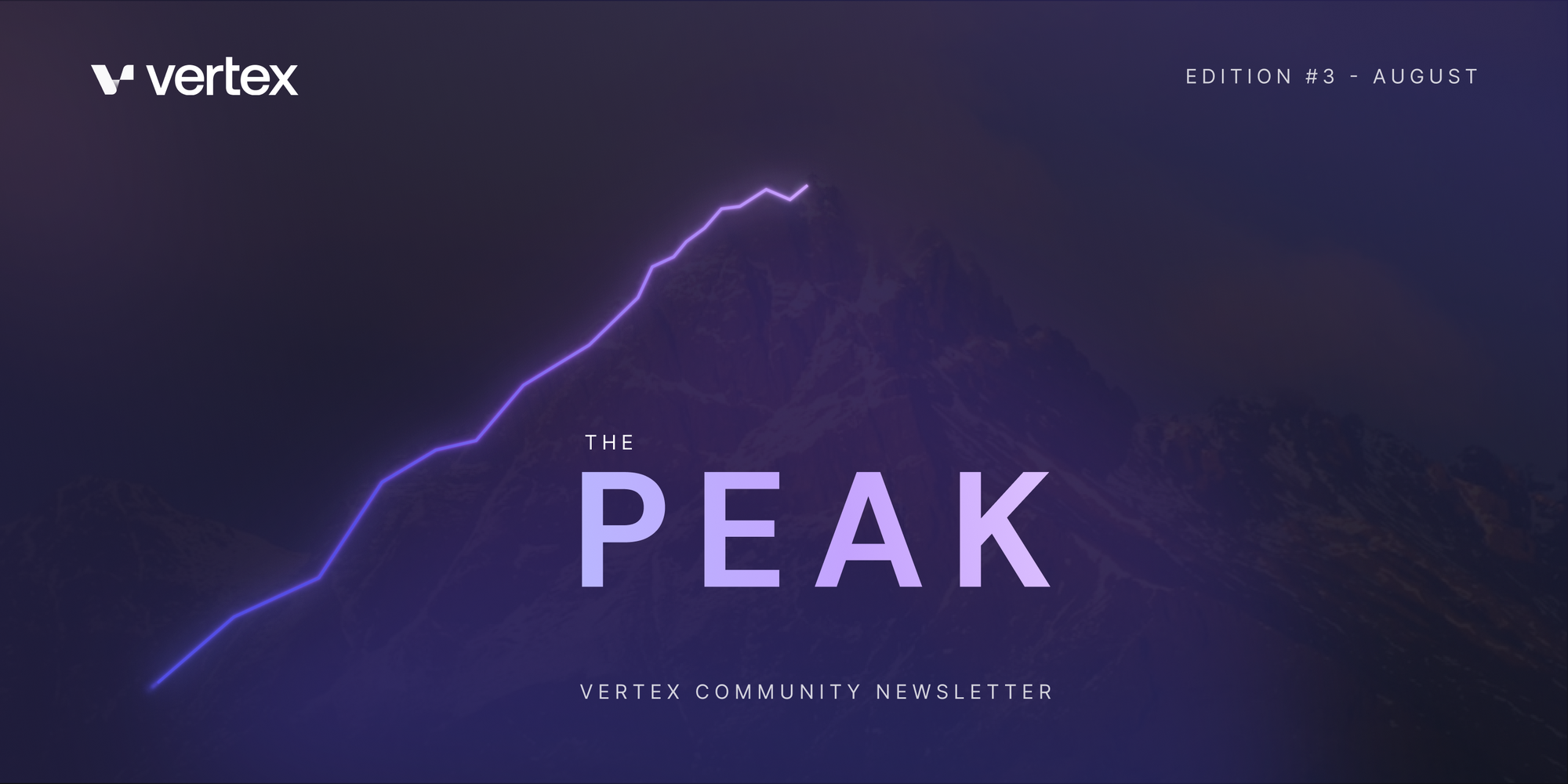 The Peak is a monthly newsletter for the Vertex community. Join us as we unpack the past month's highlights for the community; trading stats; and new features and markets.
Co-Written by team members: @0xConor @Jackisnotinabox
August 2023
What we'll be covering in the August issue (TLDR);
Big releases: Stop Orders and a new Portfolio Overview
New markets: USDT collateral and spot market + 6 new perp markets: MKR, PEPE, DOGE, LINK, DYDX, CRV
New features: Realized PnL, Account pfp + naming,
Partnerships: Vertex Partner Network, Toa Capital, Zerion, DeBank, and OKXwallet integration
Incentives: Rewards Epoch #5, Elixir Nexus Campaign, and October TGE…. 👀
Content: Making Sense of Margin (blog), Vertex vs. The Rest (Blocmates), and some research threads from Blockworks
Community: some of our favourite threads & memes + KBW
Let's dive into it 🥽
Big Releases
🛑 Stop Orders
We launched stop orders at the start of the month, with stop-markets being the first type to be supported. A stop-market lets you set a trigger price that, once reached, will execute a market order. Stop orders can be used to close existing positions (stop-loss) or to open new positions (stop-entry). Vertex will build on this momentum and soon support reduce-only TP & SL orders in addition to stop-limits. Check out the Stop-Market Blog for more details and a tutorial!
🤩 New Portfolio Overview
Whether on Vertex or elsewhere, we all spend a good amount of time viewing and managing our crypto portfolios. At Vertex, we wanted to make this experience enjoyable. Our new portfolio overview update does exactly that! We've added portfolio charting so you can see your account's value and PNL over different timeframes. We also updated the layout and health card for an easier navigation experience.
Markets
First, a quick overview:
At the time of writing, Vertex has
Surpassed $5.9B in total volume
Over 5k total users
Had its largest protocol revenue day in August
You can find stats like these + more on our Stats Dashboard
In addition to Vertex's speed and low fees, the protocol's ability to introduce new spot & perp markets helps establish Vertex as a go-to choice for traders looking for opportunities not supported elsewhere.
New Markets
During the month of August, Vertex added 1 new spot/collateral and 6 new perps:
USDT-USDC.e (Spot, Collateral & Pool)
With the addition of USDT-USDC.e, traders can now utilize USDT as collateral or short USDT. Check out this thread to learn more about stablecoin trade opportunities on Vertex.
MKR-PERP
mPEPE-PERP
DOGE-PERP
LINK-PERP
DYDX-PERP
CRV-PERP
Traders - what markets do you want to see next? Let us know 👂
More New Features
📈 Realized PnL
In July we launched position sharing, whereby you could share your perp pnl across socials. We received feedback from users that they wished to share the pnl after they closed the position. To support this + user accounting, we launched Realized PnL. This update introduced new tables in your account history, which show the realized pnl on closed perp positions. You will also be able to click on the share arrow in each row to share your position's pnl.
👻 Profile Customization: Pics + Naming
Time for some fun! You can now edit your Vertex account's name and profile pic. Simply click on the pencil icon beside your wallet on the new Portfolio Overview. Type in your desired username and select a picture - either the default avatar, your ENS pic, or from the Vertex community library.

Partnerships
August was a busy month for partnerships & integrations at Vertex.
Incentives
💸 Trade & Earn
The 5th Epoch of the Vertex Trade & Earn Rewards program started. With over 13.5 milliton $VRTX up for grabs over the next 28 days, traders can simply earn by trading on Vertex. Every fee = $VRTX rewards.
Speaking of $VRTX… our intern tweeted this the other day. October 2023, get ready 👀
🧪 Elixir Nexus Campaigns
Ahead of our partnership with Elixir, their team is hosting some great opportunities to get ahead. Check out the campaigns and complete the tasks to be rewarded with a commemorative OAT, providing early access to pools before they open to the public and advanced perks once Elixir launches its native integration on Vertex in the coming months.
Content
💜 Making Sense of Margin (Blog)
Cross-margin trading can be extremely efficient and useful. As a trader, it's important to understand how such a design functions and how you can make the most of it on Vertex. Our team recently published a Making Sense of Margin blog which breaks down exactly what Vertex's portfolio margining offers, a refresher on how it works, and the terms you should know on the app.
🏦 Integrated Money Market (Thread)
Curious about borrowing & lending on Vertex? This thread explains how Vertex's VERTically integrating approach to - Perps, Spot and Money Markets - helps traders benefit from improved capital efficiency & an overall better UX when borrowing & lending.
External pieces:
Community
Community members have been in full content creation mode throughout August, ranging from research to education, there's a tweet thread for everyone!
The advantages of universally cross-margined accounts by @TheRealIfiokLee
Diving into Vertex's Trade & Earn program by @splinter0n
DEX vs CEX by @GEEKYdefi
Derivatives growing in the bear market by @leslienomad
Analyzing Vertex's growing market share by @synedclover
Taking on Binance by @rektradar
Rooftop Builders KBBQ at Korea Blockchain Week
Hosted by Wonderstruck & FRAX, and sponsored by Vertex, IQ.wiki & Flywheel - We celebrated the end of ETHcon at the OG Korean crypto community, Nonce - where builders and community members came together and enjoyed Korean bbq and drinks on Nonce's rooftop!
Looking Forward
For those of us in the northern hemisphere, the end of August marks the end of summer and the start of the colder months. Some may dread this, At Vertex we welcome it. All the more reason to stay inside and code that fits perfectly with our roadmap because we have A LOT in store for Q4 2023… (not like we go outside anyway)
At Vertex, we do not have a public 12-24+ month roadmap…. Instead, we remain dynamic and flexible based on community (YOUR) feedback. That said, we do have a lot of exciting updates that are getting close to completion and as readers of The Peak, here's some early alpha;
Markets page - a new page displaying all markets and their details
Margin subpage - a new portfolio page that makes it easier to manage your margin
Market selection - navigate to your desired market faster
Portfolio subpages - new layout & charting for perps, balances, and pool subpages