Vertex Protocol secures strategic investment from Wintermute Ventures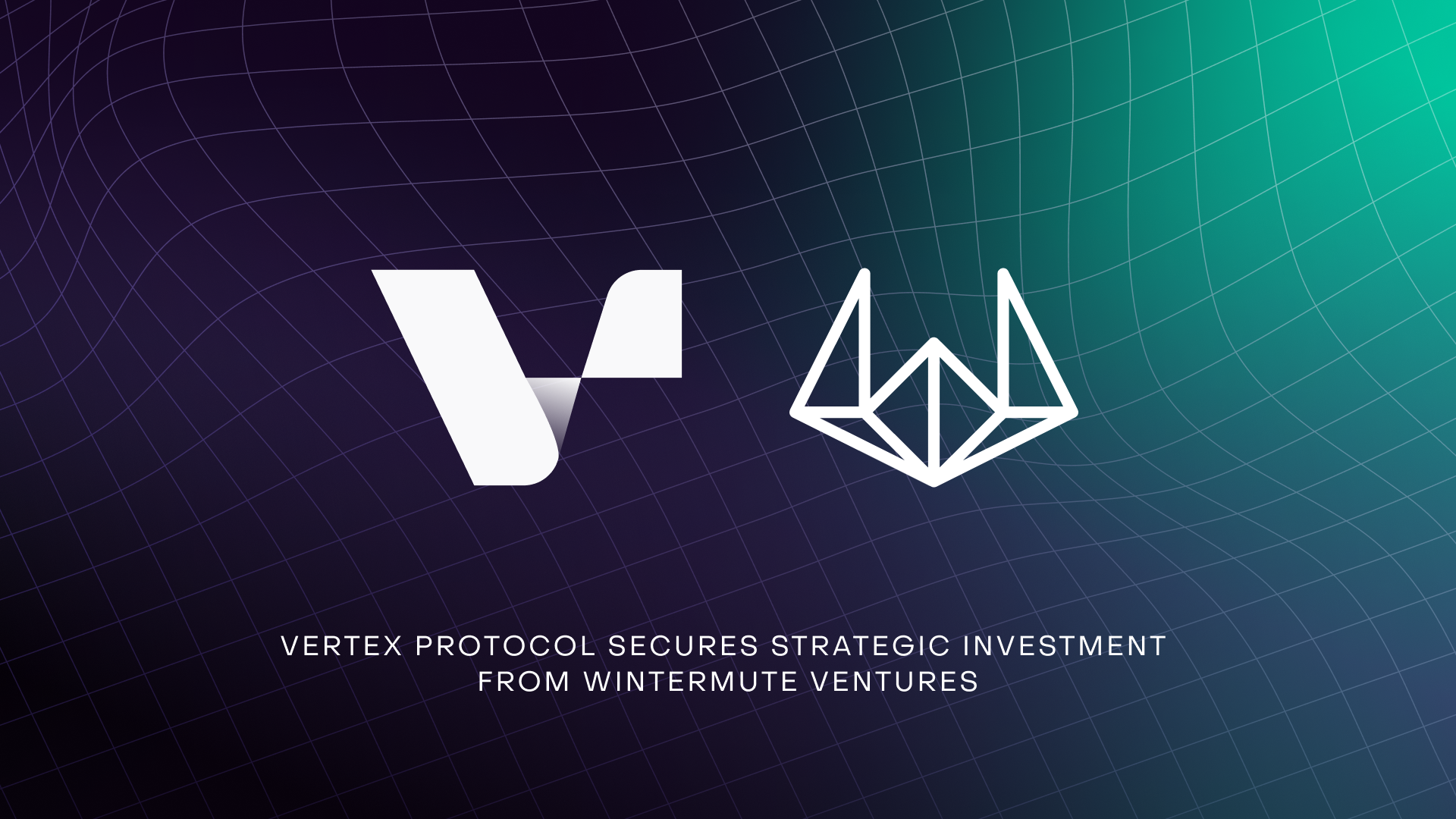 Vertex Protocol, a decentralized exchange for digital asset spot and derivatives trading, announced today that it has received a strategic investment from Wintermute Ventures, the venture arm of Wintermute, a leading algorithmic liquidity provider for digital assets.
This move will see both firms deepen each other's ties across various business lines and includes Wintermute providing liquidity to the Vertex Protocol exchange.
"Wintermute is a leader in our industry, and we are excited to be working with them," said Darius Tabatabai, co-founder at Vertex Protocol. "Their expertise and reputation are a great compliment to the other partners we have lined up and show that there is still great demand for DEXs."
Vertex Protocol launched on Arbitrum in April and, in just under two months, has traded more than $1 billion in aggregate volume across both spot and perpetuals trading, making it one of the fastest-growing trading venues in the industry and a top 20 DEX globally.
"Vertex Protocol meets the market's growing demand for noncustodial trading solutions while also possessing the efficiency of centralized exchanges," says Tim Wu, head of DeFi at Wintermute. "Their rapid growth reflects this trend, and their robust infrastructure is a good fit for large trading firms like us."
Through the first quarter of this year, DEX trading volumes rose significantly to surpass $133 billion; and a recent Uniswap survey found that nearly 30 percent of traders not currently engaging with DeFi platforms are more likely to use them this year because they are eager to hold their own crypto in the wake of last year's events. Additionally, 31 percent of respondents claimed better pricing on a trade was the main factor in moving their assets on-chain.
About Vertex
Vertex Protocol was established by a team of traders and engineers with a track record of business building in both TradFi and DeFi markets. They saw the latent market need for users to interact flexibly with DeFi. Vertex decided to leverage the growing ecosystem on the Arbirtrum blockchain to bring a trading protocol to market. Today, they are excited to be at the forefront of smart contract and market innovation for Arbitrum and to help partner with some of the most exciting names in crypto to build a DeFi protocol that works for all users.
To learn more about Vertex Protocol, please visit www.vertexprotocol.com and/or go to the following:
Product: app.vertexprotocol.com
Discord community: https://discord.gg/xRdut3NyG3
Twitter: https://twitter.com/vertex_protocol
Public docs: https://vertex-protocol.gitbook.io/vertex-protocol/getting-started/vertex-overview
About Wintermute
Wintermute is a leading global algorithmic trading firm and one of the largest players in digital asset markets. With billions in average daily trading volume, Wintermute offers OTC trading and provides liquidity across 60+ centralized and decentralized exchanges. Wintermute is an active player in the ecosystem, supporting both crypto-native projects and traditional financial institutions moving into crypto.
Through its investment arm, Wintermute Ventures, the company aims to further contribute to the advancement of the decentralized world. As a value-adding investor, Wintermute Ventures fosters innovation in early-stage Web3 projects by developing strategic relationships and contributing to positive outcomes through its deep expertise in DeFi. Since 2020, it has invested in more than 75 projects.
Media Contact
Ryan Gorman
Principal, Gorman Strategies (on behalf of Vertex Protocol)
ryan@gormanstrategies.com
Peter Padovano
M Group Strategic Communications (on behalf of Wintermute)
wintermutepr@mgroupsc.com