Vertex Protocol partners with Toa Capital Partners to provide deeper on-exchange liquidity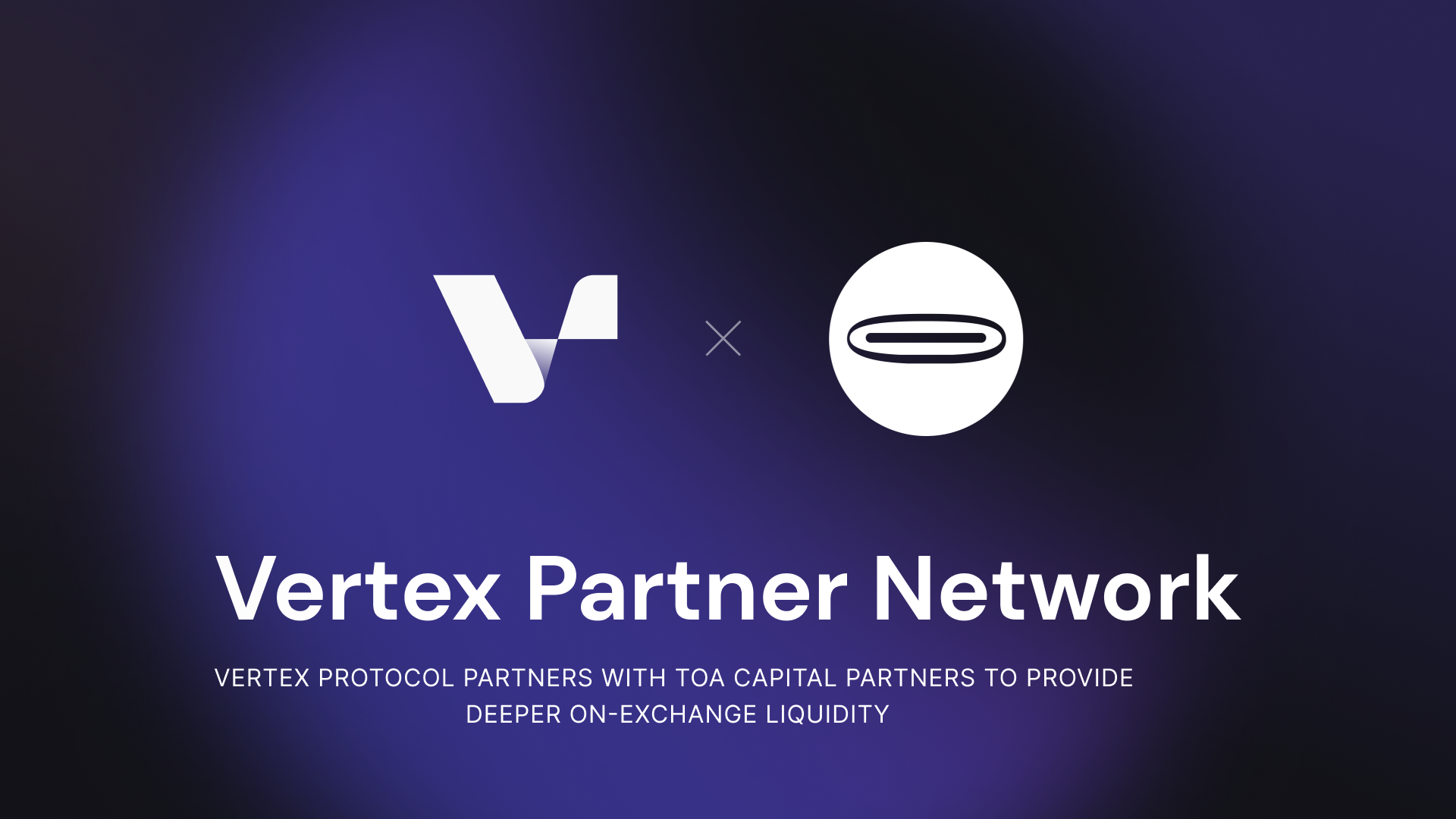 Vertex Protocol, a decentralized exchange for digital asset spot and derivatives trading, is pleased to announce it has partnered with Toa Capital Partners, a proprietary algorithmic trading firm.
This partnership will see Toa Capital engage with Vertex as a market maker to help provide deeper liquidity, tighter spreads, and an overall better user experience for traders of all types and sizes.
"Toa's team has blue chip pedigree in traditional finance and is a perfect partner for us," said Darius Tabatabai, co-founder at Vertex Protocol. "Their presence will only serve to bring further institutional quality rigor and trading to our users."
Toa Capital has been involved in crypto since 2017 and offers high-value-added services, including liquidity provision, system design, and cutting-edge post-trade analytics. The firm leverages market-leading high frequency trading systems and the latest advancements in machine learning. These services enhance partners' trading capabilities and enable them to thrive in the emerging ecosystem.
"In just a few short months, Vertex has already proven to be a leading force in DeFi," said Jake Moore, co-founder at Toa Capital Partners. "Their leadership has realized only the beginning of their vision for the future of trading, and we couldn't be more delighted to join them on this journey."
Vertex Protocol launched on Arbitrum in April and in just over three months has traded more than $3.8 billion in aggregate volume across both spot and perpetual futures trading, making it one of the fastest growing trading venues in all of digital and crypto assets. Vertex recently announced a strategic investment from proprietary trading firm Wintermute that will also see the market maker provide liquidity on the exchange.
Toa is also an active participant in the DeFi ecosystem supporting DeFi exchanges with validators, liquidators and technology expertise.
About Vertex
Vertex Protocol was established by a team of traders and engineers with a track record of business building in both TradFi and DeFi markets. They saw the latent market need for users to interact with DeFi in a more flexible way and decided to leverage the growing ecosystem on the Arbirtrum blockchain to bring a trading protocol to market. Today, they are excited to be at the forefront of smart contract and market innovation for Arbitrum and to help partner with some of the most exciting names in crypto to build a DeFi protocol that works for all users.
To learn more about Vertex Protocol, please visit www.vertexprotocol.com and/or go to the following:
Discord community: https://discord.gg/xRdut3NyG3
Twitter: https://twitter.com/vertex_protocol
Public docs: https://vertex-protocol.gitbook.io/vertex-protocol/getting-started/vertex-overview
About Toa Capital Partners
Toa Capital Partners was founded by Jake Moore and David Cooney, two financial industry veterans traded foreign exchange at large investment banks and hedge funds. The firm connects to over 60 exchanges with a robust, crypto-native infrastructure that operates 24/7 across European, North American and Asian time zones.
Toa Capital is a leading crypto trading firm, a pioneer in options trading on the blockchain, and remains committed to developing the crypto trading ecosystem.
To learn more about Toa Capital Partners, please visit: https://www.toacapitalpartners.com/