Testnet Announcement & Roadmap Update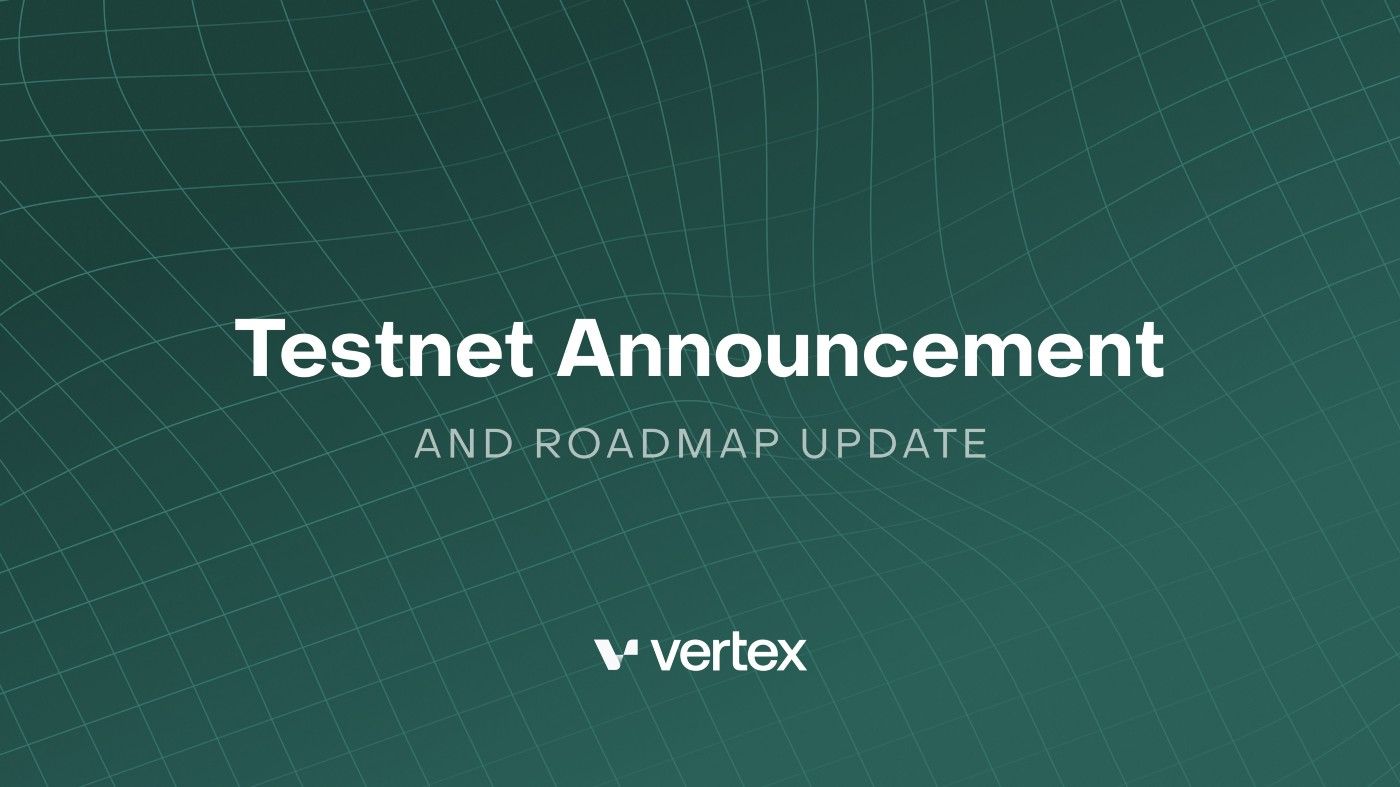 Quick recap — It's been 4 weeks since we shared our last roadmap update. In that time we have:
Rebranded (check out the website)
Attended Mainnet (have you seen our booth 😂 )
Launched community initiatives (get paid to contribute)
Next up: The Vertex Testnet. This blog will cover what's in store, how to get involved (and why?), and when to expect mainnet.
Vertex Testnet
The Testnet will be rolled out in 2 phases. The goal of each phase is to iterate on user input and make sure things are working smoothly.
Phase 1 — Closed Testnet
Duration: 2–3 weeks
Product scope: Portfolio and trading pages with limited functionality
Availability: Only available to a set group of Alpha users through sign up (see more below)
Aims: Get detailed feedback and help prepare for the next phase
Phase 2 — Open Testnet
Duration: Minimum 1 month
Product scope: Addition of money markets page with almost all of the MVP functionality available
Availability: Open to anyone
Aims: Test the limits of the protocol & gather a broad range of feedback
Closed Group — Vertex Alpha Users
We're looking for DeFi users and traders from all backgrounds to join the Closed Testnet and corresponding Alpha Group.
As an Alpha user, you will be asked questions regarding aspects of UI/UX and expected to provide detailed feedback and suggestions. This will carry on during the Open Phase. You will also be added to a Telegram group with other Alpha Users where you can discuss ideas and have access to the core team easily.
Alpha users will be our first adopters. You'll help shape the early future of Vertex and hopefully participate in governance as we further decentralize the platform.
👉 Apply to join the Alpha group: https://forms.gle/MUarPQhE62VC2K1H6
Timeline & Roadmap Update
At a glance:
Closed Testnet: week of October 24th
Open Testnet: Early-mid November
Mainnet: by January 2023
Vertex NFT…. (TBA)
Our timeline will remain flexible so we can adapt to any circumstances or conditions. However, the plan above is what we aim to accomplish. Between the key dates, we will host multiple community initiatives for you to get involved.
If you have any questions please don't hesitate to ask them in Discord: https://discord.gg/vertexprotocol