Take Profit & Stop Loss Orders – Live on Vertex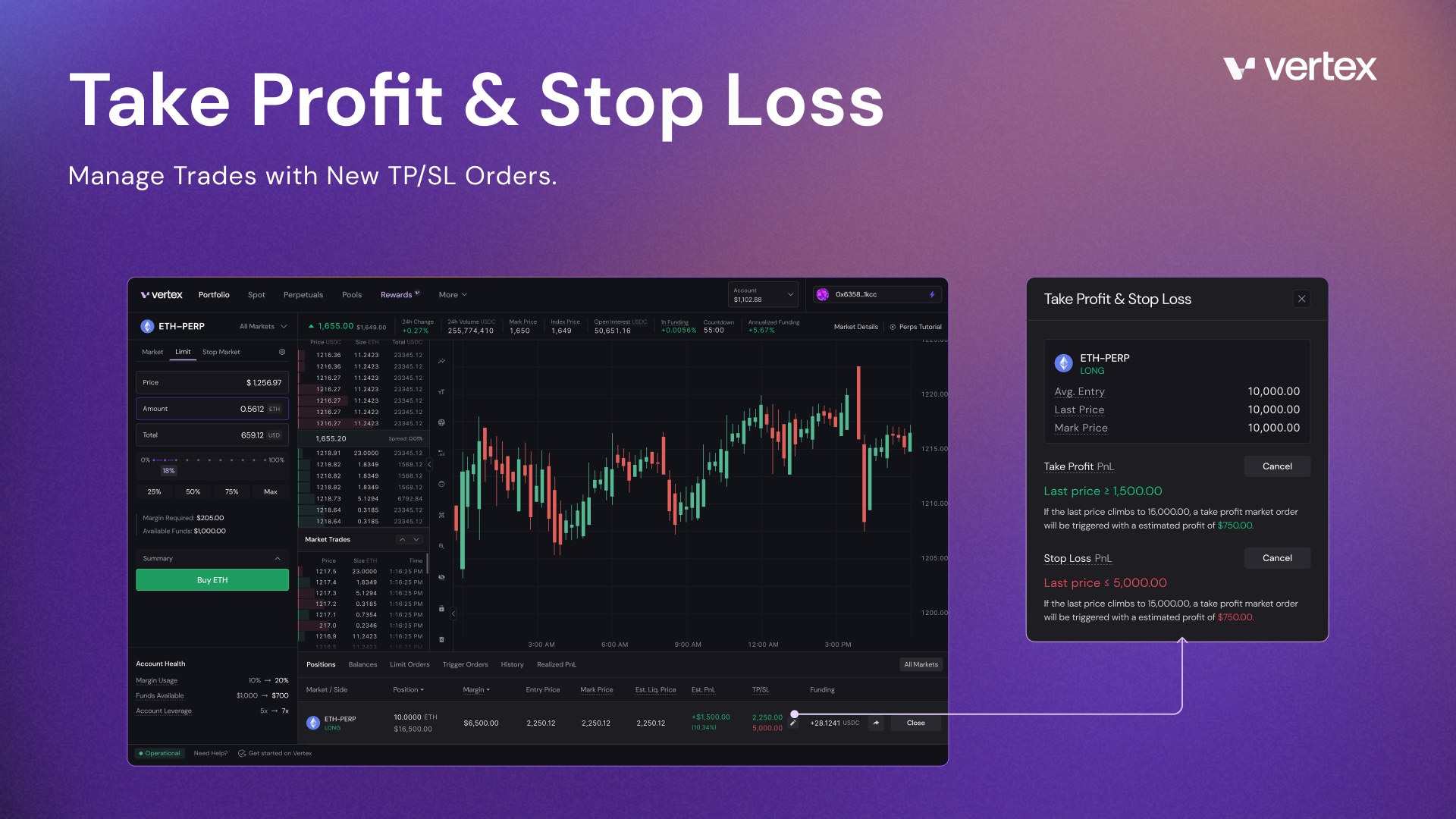 We are excited to share that Take Profit (TP) & Stop Loss (SL) order types are now supported on Vertex!
The brief post below will explain everything you need to know about the new order types and how to use them on Vertex.
---
TP & SL on Vertex
Take Profit (TP) and Stop Loss (SL) orders are tools for traders to manage their position's exit and risk tolerance. They are trigger orders associated with a specific trade, defining the specific price at which and the order is triggered to execute.
Stop Loss: The price level at which a trader seeks to cut their losses and exit the position.
Take Profit: The price level at which a trader seeks to realize profits and exit the position.
Fixing the price triggers associated with SL and TP orders in advance gives traders better risk management tooling by removing the need to manually exit positions.
On Vertex, TP & SL consist of multiple types, including:
Reduce-Only Orders: Orders that can only reduce a position's size – not increase it.
Market Orders: Once triggered, TP/SL orders will act like any other market order.
For the Entire Position: You cannot set a TP/SL for a portion of your open position. The order executes and fills for the entire position if triggered.
Based on Mark OR Last Price: Users can select either option for their price trigger based on their preference.
***Vertex cannot guarantee that any specific price will be achieved in connection with a TP or SL. Markets in digital tokens are underdeveloped and can be volatile and illiquid. Traders should consider the risks associated with digital token markets before deciding to invest.
---
Important Considerations / Requirements
Before getting to the tutorial, there are two important aspects of using TP and SL on Vertex that users should consider.
1. 1CT Must Be Enabled
To utilize TP/SL orders on Vertex (and any other trigger order), you'll need to have One-Click-Trading (1CT) switched to ON. To enable 1CT, simply:
→ Click on your wallet.
→ Click on the 1CT button.
→ Select 1CT.
→ Sign the approval in your wallet.
When starting a new trading session, you will need to approve 1CT to add TP/SL order type support. Simply click on the [Approve] button found throughout the UI or by clicking on your wallet.
Important: If you turn OFF / Disable 1CT, your existing TP & SL orders will be canceled.
2. Manually Adjusting a Position Cancels TP/SL
If you have an open TP and/or SL order for a position, the following actions will cancel the TP/SL order:
Manually Trading the Same Perp Market (Buy / Sell).
Manually Market Close The Position (Any Amount).
If the above conditions are performed while existing TP and SL orders are open, then the open TP and SL orders will be canceled. In this case, users will need to subsequently create new TP/SL orders for the remaining position.
---
How to use TP/SL on Vertex
Setting TP/SL Orders
If you have an open perp position, you can set a TP/SL order by completing the steps iterated below.
→ On any positions table, click on [Add] in the TP / SL column for the position in which you would like to create a TP or SL order.
→ A pop-up will appear. Select your desired TP and/or SL price level.
→ The PnL [%] buttons allow you to quickly set a price level trigger for TP / SL orders based on your preferred Estimated PnL.
For example, if you select [25%] for TP, the price level would trigger the TP order when the position's Estimated PnL reaches 25% of the open order's notional size.
→ You can choose to base the TP/SL on either the Last Price or Mark Price:
Last Price: The last traded price on Vertex for the given market.
Mark Price: The fast oracle price for the given market.
→ Once you have decided on the price level, press [Place Take Profit] or [Place Stop Loss].
→ Subsequently, the corresponding TP/SL order will be placed. If you have 1 CT enabled, you do not need to sign an approval transaction.
→ After successfully placing a TP / SL order, the price level for the trigger order will be displayed on the pop-up, and also in the "Positions" table alongside the Estimated PnL.
All the screenshots above use the Take Profit (TP) order type as the illustrated example.
Setting a Stop Loss (SL) order simply requires following the same instructions, but under the SL price level. A red price level will appear once the SL order is successfully placed.
Canceling TP/SL
Follow the steps below to adjust and/or cancel either a TP or SL order.
→ On any Position Table, press on the ✏️icon in the TP/SL column for the position you wish to cancel the specific TP or SL order.
→ A pop-up modal will appear. Press [Cancel] next to the TP and/or SL order you wish to cancel. You do not need to sign any approval transactions if 1CT is enabled.
→ Once completed, your TP/SL will be canceled. If you wish to re-create a TP/SL, follow the instructions listed above.
App Warning Messages
In any case where you try to manually trade a market that you already have an existing position with a TP/SL order open, then you will receive the warning below in the order entry field (mid-bottom left of the screen).
If you attempt to close a position for a given market that contains an open TP/SL order, then you will also receive the warning in the pop-up.
1CT Not Enabled / Approved
If you do not have One-Click-Trading (1CT) enabled, then you will find an [Enable 1CT] button available where the [Add] button typically would be.
Clicking on the [Enable 1CT] button will open the 1CT pop-up.
If you start a new trading session and don't approve 1CT for that specific session, then you will see an [Approve] button instead of [Add].
After long-awaited community anticipation, Take Profit (TP) and Stop Loss (SL) order types are finally available on Vertex!
As always, please feel free to reach out on the official Vertex Discord if you have any questions.
~ Vertex Team
---
Vertex provides a decentralized protocol for trading spot digital currencies and perpetual contracts. Vertex is not authorised or regulated by the Financial Conduct Authority (FCA) or any other regulator. Since cryptocurrency markets are decentralised and non-regulated, our cryptocurrencies trading services are unregulated services which are not governed by any specific UK, European or other regulatory framework (including MIFID or MiCA). Therefore, when Vertex customers use our cryptocurrencies trading service, they will not benefit from the protections available to clients receiving regulated investment services.
Vertex customers using the cryptocurrencies trading service will not benefit from the protections available to clients receiving regulated investment services such as access to the Financial Services Compensation Scheme (FSCS) and the Financial Ombudsman Service for dispute resolution. All of our products carry a high degree of risk and are not suitable for many investors. It is important that you fully understand the risks involved before deciding to trade with Vertex, that you have adequate financial resources to bear such risks and that you monitor your positions carefully. Trading involves risk to your capital. You should not invest money that you cannot afford to lose. You should seek professional advice if you do not fully understand and accept the risks of investing in the products offered by Vertex. You should review our Statement of Risk before investing.