Introducing Everest — The Vertex Ambassador Program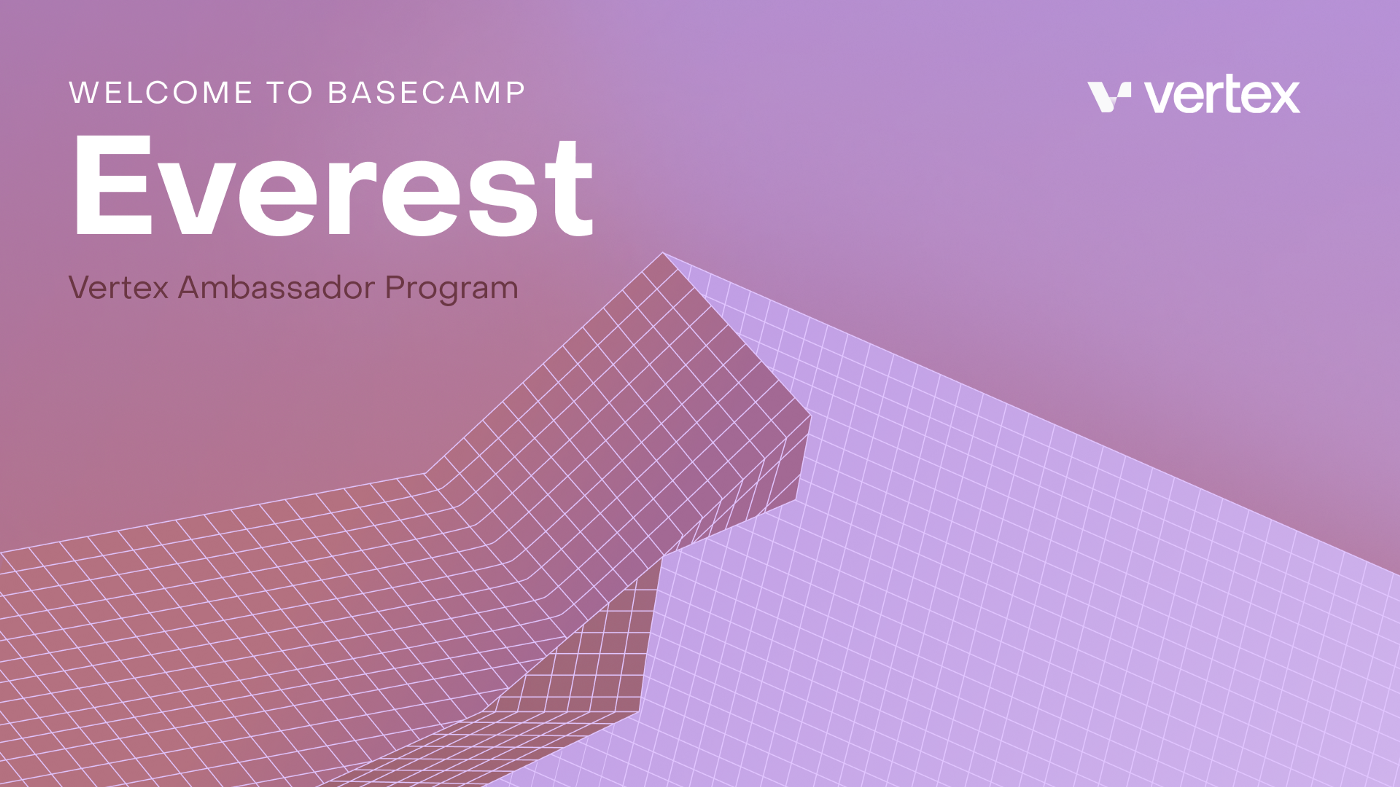 Welcome to Basecamp, the start of your journey to Everest's Summit.
The Mission
Today's current market structure contains an amalgamation of competing interests. The narrative of crypto has not changed, yet the majority settle for less by surrendering power to the few. CEXs have held the market majority for far too long. Even after sustaining numerous problems, including frozen assets, opaque liquidation mechanisms, and custody of users' funds. CEXs continue to dominate crypto market liquidity, DeFi should solve these problems, not perpetuate them.
At Vertex, we believe DEXs are better.
Vertex solves the litany of problems facing CEXs by pairing the convenience of CEXs with the explicit advantages of DeFi, integrating popular features into one DEX designed to make decentralised trading easy, efficient, and powerful for all users.
To change the meta, we need YOU.
Everest — The Program
The most important asset that has the power to change the meta is community. That's why we're launching Everest, the Vertex ambassador program. Today, we're officially opening the applications for the first Cohortof Ambassadors. Interested community members please read on for more details.
You can apply for the program here: https://forms.gle/Wd2WsVPSLg9iYiyB9 — However we recommend that you read on to see if the program is for you.
Every 2 months we will start accepting applicants for a new cohort. Each cohort will be made up of 8–12 ambassadors. Please be aware that the time scale of cohorts may change accordingly.
Ambassadors will ascend Everest by earning points and traversing the ranks until they reach the Summit — at which point they become graduates of the program. Ambassador graduates can expect to earn a variety of personalised roles and benefits within Vertex, if they so desire.
How The Program Operates
We will announce the opening of each cohort on Discord and Twitter with the appropriate application process details. Community members have a 2-week window to apply before the application for each cohort closes. Applicants will then undergo a review period and interview with Vertex team members over the following week.
Once successful applicants have been accepted into the program, they will be onboarded to the program with relevant roles, permissions, and content directives. Occasionally, you may be referred to as stereotypical mountaineering terms, such as trekkers. Every new ambassador will begin life in Basecamp (rank 1).
Here is a breakdown of rank progression.
Basecamp (rank 1): Start of a new cohort. Ambassadors are introduced to one another and Vertex team members. They prepare to embark on their journey through the program. We encourage all new ambassadors to interact and work together. Trekkers. Together. Strong. Initial responsibilities will consist mainly of content creation, educating the community, and onboarding other existing communities.
Trail (rank 2): After a few weeks of preparation and experience, Ambassadors will obtain a Trail badge for their contribution. They will find themselves gaining access to new responsibilities, such as the ability to moderate channels on Discord and Telegram as they advance on their journey.
Peak (rank 3): Nearing the peak of their ascent, Ambassadors will obtain a Peak badge for their contributions. Nearing the summit, Ambassadors who have reached the Peak will gain access to more responsibilities as they build trust and reputation within the community. These new responsibilities may include organising IRL and online events for the Vertex community.
Summit (graduate): Once an ambassador reaches the summit, they will obtain a Summit badge and are now able to graduate! Those who reach the Summit will have access to the most involved responsibilities on Vertex, including more significant, sponsored projects.
How to Rank-Up
To climb the ranks of Everest, Ambassadors will need to continuously contribute by undertaking a variety of initiatives. By contributing to the growth of the community, Ambassadors will be able to earn points based on the quality and impact of their contributions.
Proof of contribution should be submitted on a weekly basis (at the end of each week), we have forms and templates to make the process as smooth as possible.
Content will then be reviewed and points allocated during the following week. A table of points and rankings will be updated and released by the end of that week. This will encourage friendly and positive competition between Ambassadors.
As Ambassadors climb the ranks, new opportunities will arise for more responsibility, this enables positive growth and reputational trust that allows Ambassadors to become ingrained deeper in the community.
Once an Ambassador reaches "Summit" rank and graduates from the program, they'll be offered the opportunity to work on larger scale projects (Summit Projects). A few examples are outlined, but not limited to, in the graphic above.
For example, a graduate may have demonstrated their niche for running and creating podcasts, Vertex would then sponsor said graduate to run a Vertex branded podcast. There may even be the opportunities to champion Vertex at a conference or even future employment at Vertex (dependent on requirements and positions available).
What You'll Do — Trekker
Over the course of the program you will work together with the Vertex team and Community to help push the Vertex message of decentralisation, gaining valuable skills along the way. It takes teamwork to reach the summit.
Below you'll find a list of potential initiatives for you to contribute too, but do not let this list define your creativity. There is no one size fits all.
Educate the community by creating content, such as, writing articles & guides, threads, memes, videos & tutorials on Vertex.
Spread awareness by sharing Vertex content.
Help onboard new community members in Discord.
Create and manage community accounts.
Translate Vertex content.
Moderate global channels, engage and interact with community members, and advocate for the correctness of information shared about Vertex.
Organise and host events and contests whether it's online or IRL.
Network and help grow the Vertex ecosystem with potential partnership leads.
Help establish community media channels.
Upon graduation, Ambassadors will receive a bonus reward for their achievement — a dedicated role within Discord, and the opportunity to focus on their niche and be compensated for their efforts.
Ambassador Benefits
During the program, as you help advance our vision for a DeFi future, you'll also benefit from a few great perks and benefits.
Ambassadors producing high quality content on Twitter, Blogs, Twitter Spaces, Videos, etc. will benefit from Vertex socials co-promotion, to help Ambassadors grow their own social presence on Crypto Twitter.
Gain access to a private Ambassador channel, as well as direct access to the Vertex team and leadership for guidance and support, and priority access & first-call to events, bounties, and more.
As ambassadors progress through the ranks they will gain more responsibility within the community, empowering you to take lead, run office hours and host Twitter Spaces to advance your Web3 career.
Earn exclusive merchandise airdrops as you climb the ranks of Everest, as well as discretionary rewards for the top ranked ambassadors.
After graduating from the program and reaching the Summit, there will be further opportunity to work alongside the Vertex team in a more substantial capacity.
Call to Action
We're looking for like-minded individuals to join the climb and reach the summit of Everest.
Thinking of applying to Everest? If you are:
Passionate about Vertex and DeFi.
Eager to get more involved with the team and help the project grow.
A creative individual who enjoys educating others.
Are interested in networking with other people in the community.
Are excited to impact the growth of the Vertex community.
Then apply to Everest today, and help us expand the Vertex Community, but most importantly, ascertain the financial freedom of DeFi.
Everest Application Form: https://forms.gle/Wd2WsVPSLg9iYiyB9