Introducing Collab+Currency to Vertex's Partner Network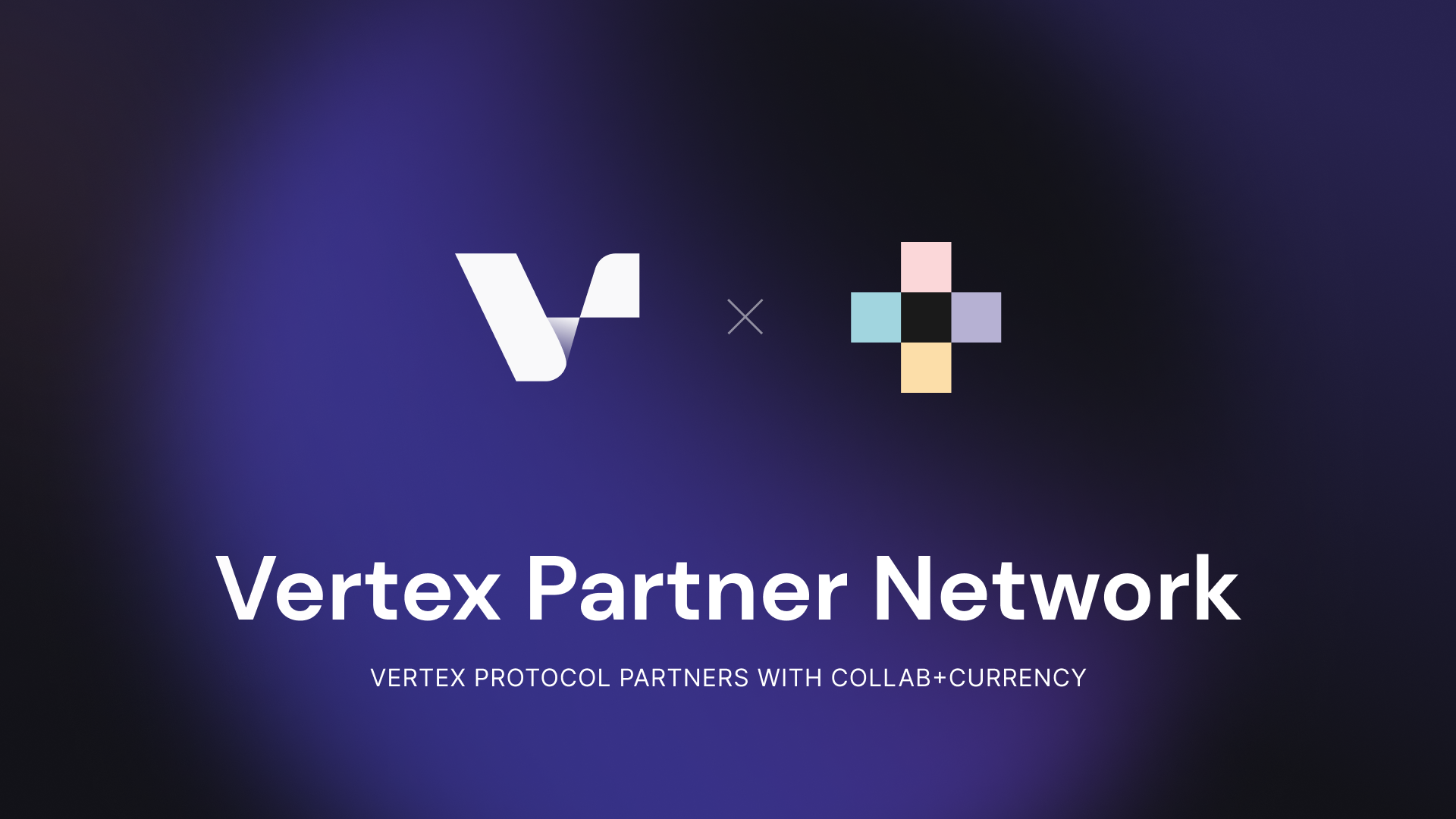 Vertex Protocol, a decentralized exchange for digital asset spot and derivatives trading, is pleased to announce Collab+Currency has joined its Partner Network, a seasoned crypto-focused venture fund.
Partnering in 2022, Collab+Currency participated in Vertex's seed round, bringing years of experience in DeFi, crypto, and consumer products.
"We've had the pleasure of collaborating with the team at Collab+Currency" said Darius Tabatabai, co-founder at Vertex Protocol "From the earliest stages of due diligence to our present phase, their unwavering dedication to engaging in meaningful discussions, offering valuable insights, and leveraging their extensive expertise has consistently exceeded our expectations."
Collab+Currency built a strong and diverse crypto investment portfolio over several years, focusing on supporting visionary founders that shape the future of crypto – making them an ideal Vertex partner.
Stephen McKeon, Partner at Collab+Currency, said: "From time to time, you come across a project where the very first call reveals that there's something special about the founder and their ability to execute on an idea. That dynamic became evident within the first 15 minutes of our initial call with Darius. His ability to build an incredible team, navigate turbulent waters in DeFi, and build a protocol of lasting value has been inspiring to watch."
Vertex Protocol launched on Arbitrum in April 2023, and has traded more than $4 billion in aggregate volume across both spot and perpetual futures trading, marking one of the fastest-growing trading venues in DeFi. Vertex recently announced a strategic investment from proprietary trading firm Wintermute that will also see the market maker provide liquidity on the exchange.
About Vertex
Vertex Protocol was established by a team of traders and engineers with a track record of business building in both TradFi and DeFi markets. They saw the latent market need for users to interact with DeFi in a more flexible way and decided to leverage the growing ecosystem on the Arbirtrum blockchain to bring a trading protocol to market. Today, they are excited to be at the forefront of smart contract and market innovation for Arbitrum and to help partner with some of the most exciting names in crypto to build a DeFi protocol that works for all users.
To learn more about Vertex Protocol, please visit www.vertexprotocol.com and/or go to the following:
Discord community: https://discord.gg/xRdut3NyG3
Twitter: https://twitter.com/vertex_protocol
Public Docs: https://vertex-protocol.gitbook.io/vertex-protocol/getting-started/vertex-overview
About Collab+Currency
Collab+Currency is a venture fund backing early-stage projects building the next generation of culture and consumer technology. The firm focuses on the earliest-stage opportunities in web3, primarily investing in the pre-seed and seed rounds. During the past 5 years, the firm has backed over 100 projects working in nearly every vertical within crypto, including infrastructure, consumer financial applications, base-layer blockchains, and NFTs. The fund not only provides crucial financial backing but also serves as a strategic partner, harnessing its extensive network and industry acumen to empower projects in shaping the landscape of tomorrow's world.
To learn more about Collab+Currency, please visit https://www.collabcurrency.com/ and/or go to the following:
Twitter: https://twitter.com/Collab_Currency