Introducing $ARB Trading Incentives on Vertex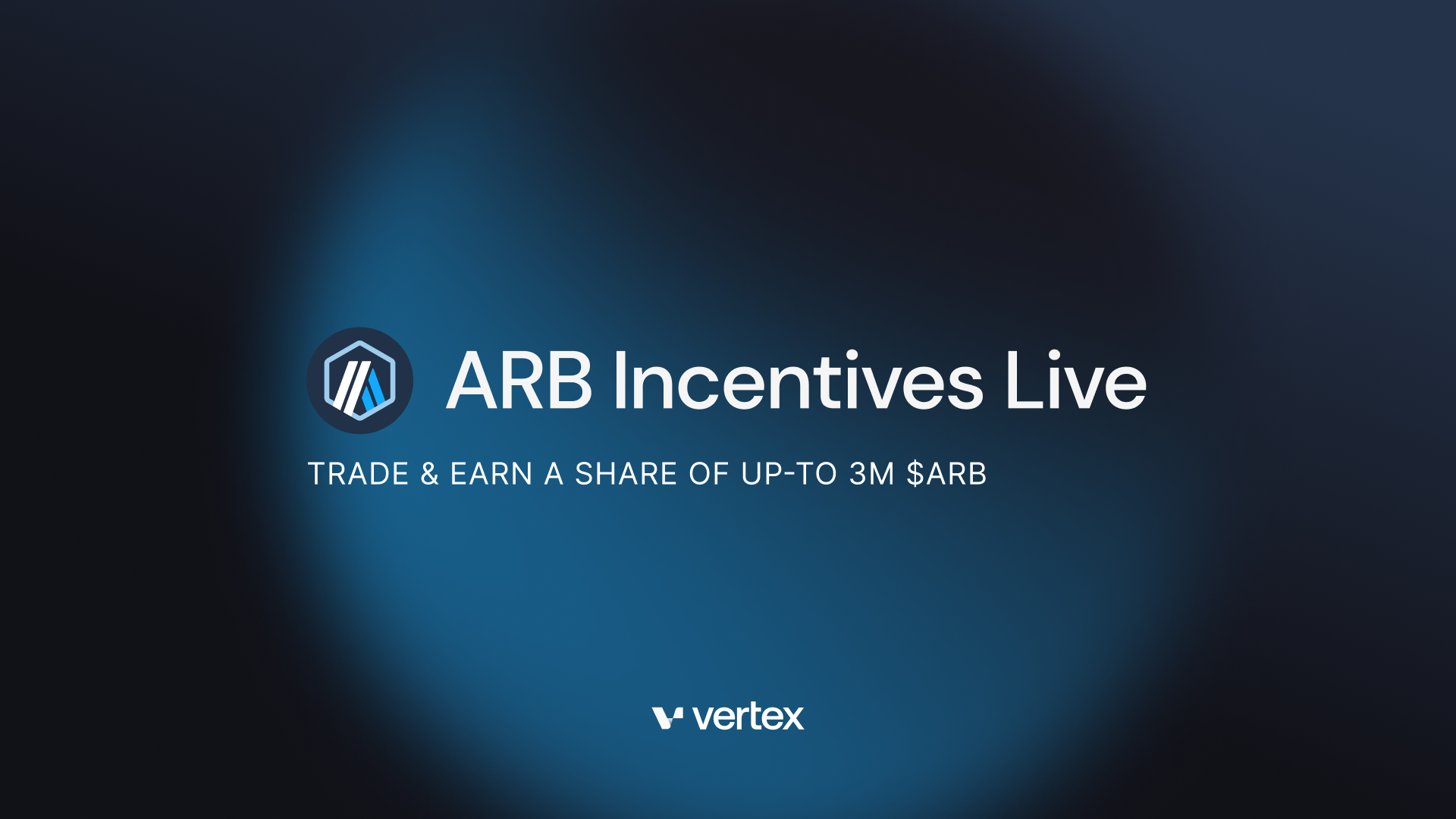 Trade on Vertex: Earn VRTX + ARB Rewards
Trading on Vertex just got more rewarding!
The Vertex proposal to the Arbitrum DAO's Short-Term Incentives Program (STIP) successfully passed the Snapshot governance vote on October 13th, 2023 – garnering over 160 million FOR votes. As a result, Vertex's request for up to 3 million ARB tokens has been granted by the DAO.
Traders can begin generating ARB rewards by simply trading on Vertex!
How can you participate, anon? Let's dive in.
TLDR:
Trade on Vertex.
LP Elixir Fusion Pools.
Earn VRTX and ARB.
---
Vertex & Elixir – ARB Trading Incentives Summary
Up to 3 million ARB tokens from the Arbitrum DAO will be distributed as trading rewards to Vertex users, including Elixir Fusion Pool LPs.
Vertex STIP Grant Program Parameters:
Total ARB Trading Incentives = 1.8M - 3M ARB.
When: November 8th, 2023 → January 31st, 2024
Duration: 12 Weeks
ARB Rewards Claiming: Weekly
The ARB rewards are allocated in addition to the ongoing VRTX Trade & Earn program, meaning users can earn dual rewards in both VRTX and ARB tokens over the next 3 months. The total ARB allocation of the DAO grant is split into two categories.
More specifically, Vertex users can earn ARB rewards via two ways:
Trade on Vertex
LP Elixir Fusion Pools
Trade on Vertex
The ARB rewards for trading on Vertex are analogous to Vertex's ongoing Trade & Earn program – where trading rewards are distributed in VRTX. The pool of incentives is split and distributed proportionally to traders based on their taker fees.
Vertex ARB Trading Rewards Parameters:
Total ARB Trading Rewards: 1.35M – 2.55M ARB total (450K – 850K ARB per 28-day epoch).
Reward Mechanism: Rewards on trading fees up to a maximum of 75% of the taker fee paid. The balance will be split proportionately if:

75% * Total Trading Fees > Allocated Grant Available

ARB Incentives Distributed per Week: 212.5k ARB
For example, any trade on Vertex that pays a taker fee will earn ARB incentives up to a 75% maximum of the total taker fee paid. The amount of ARB earned is in addition to the existing VRTX rewards also disbursed to traders.
Taker fees are applied to orders that immediately cross the book, such as market orders. Taker fees do NOT apply to limit orders that don't execute immediately and sit on the book.
Limit orders and takers aren't mutually exclusive either.
For example, a trader might place a limit order that does not immediately match any existing orders, adding liquidity to the market. Later, the same trader might execute a market order or a limit order that matches an existing order, taking liquidity and acting as a taker that pays a taker fee.
Vertex's sequencer fees will also be removed for all trading pairs for the duration of the 12-week ARB Rewards Program!
Sequencer fee removal refers explicitly to reducing the sequencer fee charged for any order that takes liquidity from the orderbook, meaning:
➡️
0.1 USDC → 0 USDC for all market pairs on Vertex.
Sequencer fees for submitting liquidations, withdrawing collateral, and minting/burning LP tokens remain unaffected by the ARB Rewards program.
Unlike VRTX rewards, ARB incentives are distributed and claimable weekly – beginning after the first week of the program.
LP Elixir Fusion Pools
Vertex users can also earn ARB rewards from the program via becoming depositors (e.g., LPs) of Elixir Fusion Pools – accessible directly on the Vertex app. The Elixir integration with Vertex recently went live last week, empowering retail users to LP orderbook pairs on Vertex.
Aggregated LP liquidity from Fusion Pools is deployed to market pairs on the Vertex orderbook, concentrating on a tight band around the market price. In effect, the aggregate LP liquidity functions as another market maker on the Vertex orderbook, producing:
A familiar risk/return profile to conventional AMMs for Fusion LPs.
Better market depth for Vertex orderbook pairs.
VRTX trading rewards for Fusion Pool LPs.
With the ARB incentive program, Fusion Pool LPs for Vertex modules now also earn ARB incentives on top of VRTX rewards!
Fusion Pool ARB Rewards Parameters:
Total ARB Fusion Pool Incentives: Up to 450K ARB total (150K ARB per 28-day epoch).
Reward Mechanism: Min [15% * TVL * ⅓, 150k]
Basically, up to a maximum of 150K ARB, 15% of the total TVL in Vertex Fusion Pools is allocated and distributed in ARB rewards.
Fusion Pool Incentives per Week: 37.5K ARB
The ARB incentives dedicated to Elixir's Fusion Pools are also distributed and claimable weekly.
However, users will need to claim their ARB rewards generated from Fusion Pools directly on the Elixir app instead of through Vertex.
---
How to Claim Your ARB Incentives on Vertex
Claiming ARB incentives earned via trading on Vertex is accessible on the Vertex Rewards page.
On the Rewards page, you will find a new ARB Incentives card with the following details:
Total Earned: The total amount of ARB incentives you have earned so far. Incentives are realized at the end of each week.
Total Claimed: The total amount of ARB incentives that you have claimed from your total earned up to that point.
Estimated New: The estimated new ARB rewards you could earn for the current week. This amount is variable and based on your trading activity for the week relative to other traders at any given time. It is subject to change until the end of the week when the total amount of ARB earned is realized.
Available to Claim: Any unclaimed ARB incentives from previously completed weeks.
Week 1 | Week 2 Starts In: A countdown until the next week in the rewards program begins.
How to Claim ARB Incentives
To claim your ARB incentives, simply:
Click on [Claim All Incentives].
Sign the transaction in your wallet. Once signed, you will get a confirmation pop-up.
You will receive the ARB in your wallet, not your Vertex account.
Claiming will automatically be performed for all Available to Claim ARB.
---
Vertex provides a decentralized protocol for trading spot digital currencies and perpetual contracts. Vertex is not authorised or regulated by the Financial Conduct Authority (FCA) or any other regulator. Since cryptocurrency markets are decentralised and non-regulated, our cryptocurrencies trading services are unregulated services which are not governed by any specific UK, European or other regulatory framework (including MIFID or MiCA). Therefore, when Vertex customers use our cryptocurrencies trading service, they will not benefit from the protections available to clients receiving regulated investment services.
Vertex customers using the cryptocurrencies trading service will not benefit from the protections available to clients receiving regulated investment services such as access to the Financial Services Compensation Scheme (FSCS) and the Financial Ombudsman Service for dispute resolution. All of our products carry a high degree of risk and are not suitable for many investors. It is important that you fully understand the risks involved before deciding to trade with Vertex, that you have adequate financial resources to bear such risks and that you monitor your positions carefully. Trading involves risk to your capital. You should not invest money that you cannot afford to lose. You should seek professional advice if you do not fully understand and accept the risks of investing in the products offered by Vertex. You should review our Statement of Risk before investing.